After Tunisia, 'sextremist' Femen talk Ukraine
The radical feminist group first grabbed the Arab world's attention when they protested topless in Tunisia
First, they grabbed the Arab world's attention when they protested topless in Tunisia.
Now, they've gone back to their roots and are tackling the Ukraine saga which has recently erupted into a bloody mess.
Femen, the Ukraine-based controversial women's right group protesting against sexual exploitation of women, dictatorship and religion, had first begun demonstrating against the now defunct Ukrainian President Viktor Yanukovich back in 2010.
In an interview with The Daily Beast on Monday, Femen leader Inna Shevchenko boasts that the group had warned of the recent wave of bloody unrest in Ukraine years ago.
"Now it's February 2014 and we're at a war in Ukraine--the war Femen warned about. We were [the] first fighters and then victims of the regime, being persecuted and forced to flee."
Shortly after their radical protests, the radical feminists fled Ukraine, claiming they were scared for their lives and well-being.
The group continued to protest fiercely – pumping their fists and shouting -- outside of their embassy in Paris to vocalize their contempt for Yanukovich, who critics say tried creating a "controlled democracy," by squashing opposition forces and limiting personal freedoms, among other corrupt tendencies.
In an interview with Al Arabiya News last month, Shevchenko said another focus of the group's protest would be opposing oppressive rulers, claiming they were a part of the patriarchal society the group is against.
"We want to attack the people who are guilty in our problems. For example, such person[s] as Putin, but in the Arab world, the dictators - the bosses of the country."
During one topless protest, FEMEN members dropped their pants in public and urinated on a picture of the leader.
The group later went on to stage the first ever topless protest in the Middle East, taking off their clothes again in defense of a Amin Sboui, a Tunisian member of Femen.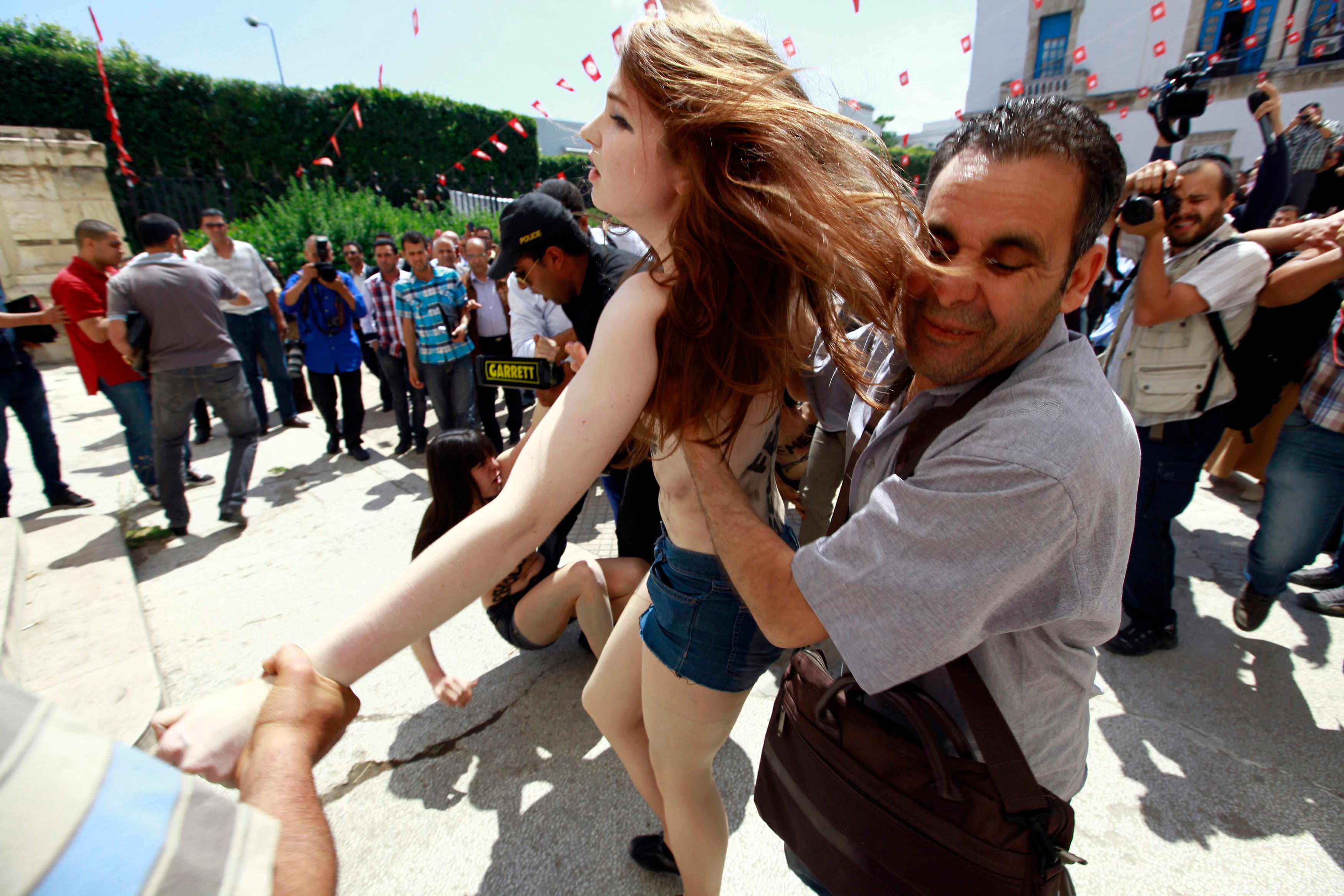 Sboui scandalized the country in March by posting topless photos of herself as a protest. She later attempted another protest May 19 in the religious center of Kairouan, where she was arrested.
Two French and a German member of the Ukrainian feminist group were arrested following the demonstration for her release.
Next stop: USA
After causing controversy in Europe and the Middle East, Shevchenko tells the Daily Beast the group's new frontier is the United States.
"American women expressed their support and impatience when fighting puritanism and conservatism using Femen tactics.We got the call, so we're giving an answer and helping commit Femen revolution in the United States," Shevchenko said.
"Once American women are trained and ready to act as Femen, every place of gender injustice, every representative of patriarchal culture, will be a target of Femen USA."
While Shevchenjo wouldn't reveal specific targets of the U.S.-based demonstrations, she did state that the group will focus on religious institutions.
"We will not leave religious institutions in peace, with their lobbying for anti-women policies. And Republican politicians will not walk the streets without worry [if they] lobby for anti-women laws. Femen is a special troop of reaction and punishment."
Hostility towards religion
In an interview with The Daily Beast, Shevchenko explained: "Religion is not a personal issue anymore, it has become political. Religion is oppression and we are going to fight it with whatever "instincts" necessary."
While FEMEN took down a 13-foot cross with a chainsaw in front of a church in Kiev, the group's feelings towards religion have not been limited to Christianity.
At 2012 Summer Olympics in London, the group staged a protest in opposition of "bloody Islamist regimes." The demonstration included women wearing clothes traditionally worn by Muslim men with signs that read "No Sharia."
FEMEN activists also burned the Salafist flag in front of the Great Mosque if Paris in 2013 in solidarity with fellow FEMEN members who were being detained in Tunisia after their nude demonstration there.
Shevchenko reported told The Guardian last year that she "strongly believes that one day religion has to be forbidden."