12-year-old Saudi boy reveals how he tricked his kidnappers
His kidnappers requested a $13,000 ransom and locked him up in an abandoned mosque
A 12-year-old Saudi boy's extraordinary presence of mind and courage helped him escape from the custody of kidnappers.
Muhammad al-Katheeri managed to escape within a few hours after he was locked up by his kidnappers in an abandoned mosque at a remote area in the Makkah region.
Police arrested two young Saudis who kidnapped the boy seeking a ransom of SR50,000 ($13,000).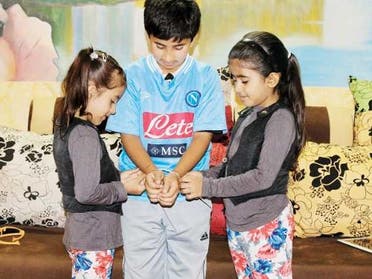 According to reports, the kidnappers wanted to settle a score with Muhammad's father following an old dispute between them.
It all happened at 11 a.m. last Sunday when Muhammad was returning home from school, according to his grandfather Baasous al-Katheeri.
When he was crossing the road to reach home, a Toyota Hilux pickup stopped in front of him and two young men got down. Wearing hand gloves and masks, the kidnappers took Muhammad forcibly into the vehicle and drove away. When the abductors reached a football ground, they abandoned the vehicle, which was stolen, and continued travel in another Hilux pickup.
Katheeri said the abductors tied Muhammad's hands with a plastic rope, chained his feet with iron rings and covered his face with a black plastic sheet. They took him to a remote uninhabited area and kept him in a mosque, which was abandoned for about 15 years. Muhammad begged for mercy and screamed for help for about three hours but to no avail. They ordered him to call his father and ask him to bring the SR50,000 ransom.
The abductors apparently wanted to contact Muhammad's father from another mobile phone. So they left the place in search of a phone. They threatened him that they will kill him if he tried to escape or scream for help. So he kept silent and sat apparently motionless.
By 4 p.m., Katheeri said, the boy managed to unfasten his hands and removed the chains from his feet. He forced open the old door of the mosque, then climbed the 1.5-meter-high wall of the mosque courtyard and ran about half a kilometer. After reaching a highway, he waited for some vehicle. When Muhammad asked for a lift, a Yemeni driver stopped his truck and took him to his house, Katheeri said quoting his grandson.
Meanwhile, when Muhammad was found missing, his father called a police official and registered a complaint. Soon, several security patrol teams launched a massive manhunt that resulted in the arrest of the culprits.
Ati al-Qurashi, spokesman of Makkah police, said that the abductors confessed to their crime. The criminals claimed that they wanted to punish the boy's father with whom they had an old dispute. The case was referred to the Bureau of Investigation and Public Prosecution.

This article was first published in the Saudi Gazette on March 22, 2014.