New Syrian airline 'Kinda' sparks online laughs
Syria's new private carrier, Kinda Airlines, has been in the spotlight for all the wrong reasons
Amid Syria's ongoing war woes, the upcoming launch of a new Syrian airline has attracted a wave of criticism over the regime's apparent ability to weather the three-year conflict.
But this hasn't been the only type of criticism. The private carrier's launch announcement has also sparked a barrage of online laughs.
Kinda Airlines is set to launch next Sunday, according to a tweet posted by the Syrian news agency's official Twitter account this week. In response, social media users poked fun at the name "Kinda."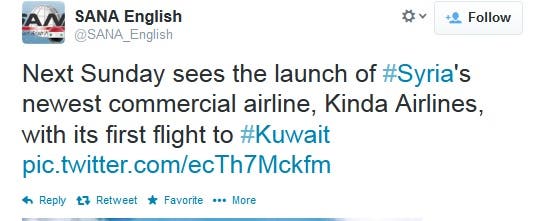 "Syria launches a new airline. Its brand name inspires confidence… kinda sorta," one user wrote, while another posted: "I hear first class on #Syria's Kinda airlines will be called 'Sorta'"
Other online responses included users saying they were "kinda speechless" and that the news was "kinda amazing" or "kinda strange."
Another user asked whether "Kinda Airlines have a "Sorta" rewards program?"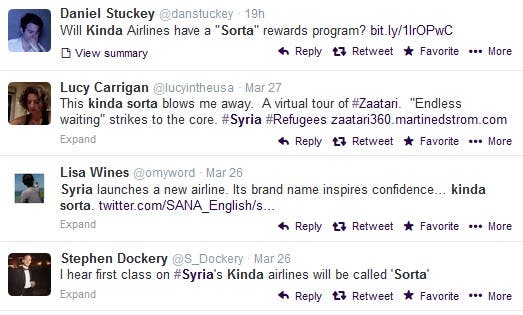 Right time to launch?
On a more solemn note, other users were angered at the fact that the Syrian airline's launch follows months of gains on the battlefield by forces loyal to President Bashar al-Assad.
The launch of the private company has also illustrated how Assad has been able - in part - to endure the three-year conflict.
"Is this really the time to be launching a new airline in Syria? I mean, shouldn't Syria be focused on say, their civil war, which has been ongoing for the past three years? Do they really want to encourage more people to fly to Syria right now?" wrote Lebanese blogger Ranya Radwan.
Kinda Airlines will operate out of Damascus International airport and the coastal city of Latakia. It aims to fly to more than 10 destinations within a year, including the United Arab Emirates, Kuwait, Iraq, and "hopefully Lebanon and Jordan," Esmail Sharaf, the company's Vice Commercial Manager told Reuters.
He said the company had registered a Boeing 737-400 from Jordan Aviation and signed a contract for an Airbus 320 with Aeolus Air, a company registered in Gambia and with offices in the United Arab Emirates.
Sharaf also said that Kinda Airlines' three main shareholders were all private Syrian citizens, adding that there had been a lot of demand for a second carrier other than the national airline Syrianair, which he said had flown out of Damascus throughout the conflict.
"Damascus (airport) has been very safe in the last six or seven months," he said.
Airlines have stopped flying to Syria in recent years, where civil war has killed over 140,000 since 2011.
According to Syrian news agency SANA, the airline's first flight will be to Kuwait next Sunday, despite Sharaf saying the airline plans to start flights from the war-torn country in May.
The announcement also drew online users to look at the airline's new website, also attracting witty critiques.
"Syria's new private airline is already cornering the market in stock photos," wrote one user, with another saying: "Their website is full of stock photography of white people. I mean really white."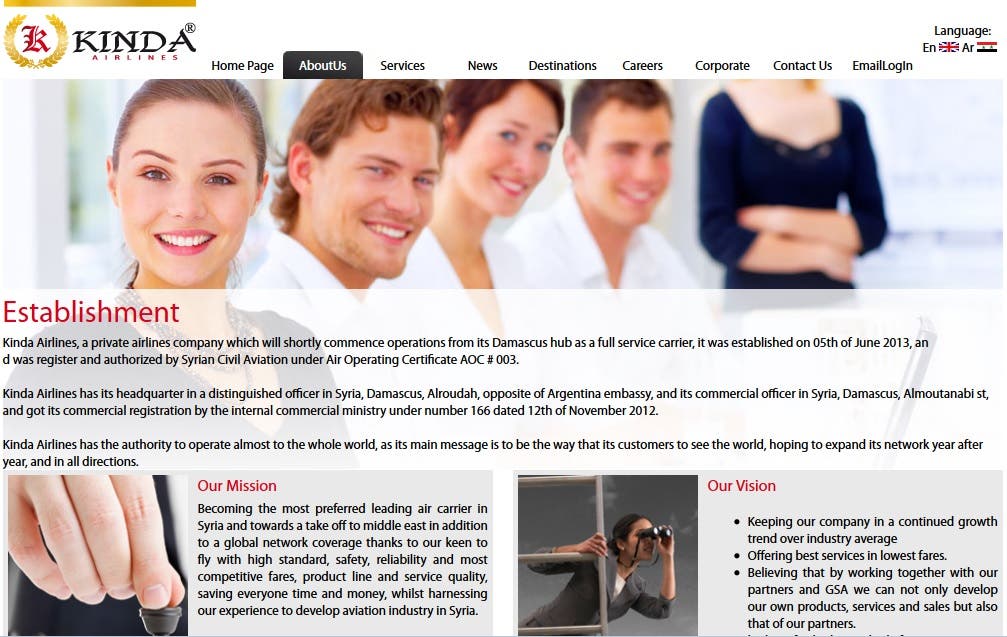 A message on its website reads: "Kinda Airlines has the authority to operate almost to the whole world," adding that it hopes to expand its "network year after year, and in all directions."
But Twitter users still aren't impressed.
"I'd rather book a flight on Malaysian Air," wrote one user in reference to the ill-fated Malaysia Airlines flight from Kuala Lumpur to Beijing which went missing earlier this month with 239 people on board.