Lebanon diva dubbed Lady Gaga copycat
Maya Diab was previously accused of imitating super star Beyonce
A Lebanese singer has been accused of imitating Lady Gaga after she posted a picture of herself online in what seemed to be a bathroom, wearing a form fitting black leather body suit paired with a black veil and sunglasses.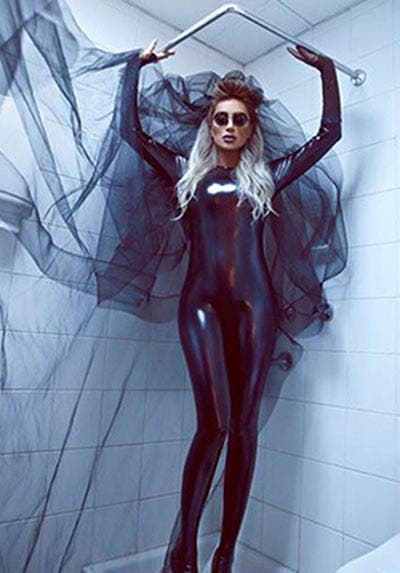 Maya Diab wore the bizarre costume, by popular Lebanese designer Nicolas Jebran, to a concert in Casino du Liban. The daring fashion statement was found to be similar to Lady Gaga's style by several media outlets.
Social media users also expressed their opinions.
A user on photo and video-sharing website, Instagram, equated the all-black look with a "cockroach," while another thought she was "daring" and had a positive view of the singer's attire.
User angel_sh1 said: "this is your level, the bathroom," in a swipe at the starlet.
The Lebanese diva is not the first Arab diva to be compared to Lady Gaga. Another Lebanese singer, Miryam Fares, was accused of imitating Lady Gaga's exaggerated fashion style and couture costumes by social media users.
Miryam Fares is popularly dubbed the "Queen we Stage," as she focuses heavily on dancing and choreographed performances in her music videos and concerts.
Meanwhile, it is not the first time Maya Diab has been accused of imitating a Western singer. She was previously touted as a copycat of Beyonce.