'No hugs, kisses' in Saudi wedding amid MERS fears
Guests were asked to steer clear of affectionate pecks and cuddles - and even handshakes
Meeting and greeting friends and family has become risky business in Saudi Arabia, where at one wedding, guests were asked to steer clear of affectionate pecks and cuddles - and even handshakes.
The reason? MERS.
The outbreak of the deadly Middle East Respiratory Syndrome has prompted one woman, the mother of the groom, to inform wedding guests that shaking hands, hugs and kisses will not be allowed during the happy occasion held in the city of Tabuk, Saudi newspaper Okaz reported on Friday.
According to the report, the woman informed guests of her rules on the wedding invites, and followed up with telephone calls to the guests to ask "whether they accepted her terms."
Men and women are traditionally separated in Saudi weddings and the mother of the groom limited the restrictions to the women's hall. It was not clear whether the men had to abide by the same rules.
"The woman ensured masks were handed out to guests entering the hall to attend her son's wedding," the newspaper added.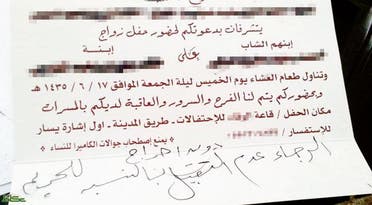 Public alarm
The rising number of fatalities from MERS infections in the kingdom continues to stoke fear among the public, with the total number of deaths across the country to 71 from 205 infections, the Saudi-based Arab News reported on Thursday.
The Saudi health ministry has said 35 percent of MERS patients in the Kingdom have died.
Last Friday, the World Health Organization said it had been informed of 212 laboratory-confirmed cases of MERS infection worldwide, of which 88 have proved fatal.
The viral respiratory illness was first reported in Saudi Arabia in 2012. It is caused by a coronavirus called MERS-CoV.