Olivia Wilde 'jealous' of her own baby boy
The actress has been periodically updating her Twitter account with funny anecdotes in her first week of being a mom
Her son's only a week old, but the sparks have already begun to fly!
New mom Olivia Wilde revealed on her Twitter account on Saturday that she was jealous of her son Otis' crib, joking it would rival luxurious houses of the rich and famous featured on MTV.
"If Otis was on Cribs, his crib would win," she wrote. "I wish I could fit in it."
Since giving birth on Sunday to Otis Alexander Sudeikis, the stunning actress has periodically updated her social media accounts to share anecdotes of her first few days of being a mom.
Like many celebs, Wilde took to Twitter to announce Otis had arrived safe and sound.
"Ladies and gentlemen, Otis Alexander Sudeikis has LEFT the building! (I'm the building)," she wrote.
The witty message came with a black and white photo of the American actress and her newborn enjoying an intimate moment. Wilde is seen smiling with her eyes closed and resting her head on her son in the adorable mommy-son photo.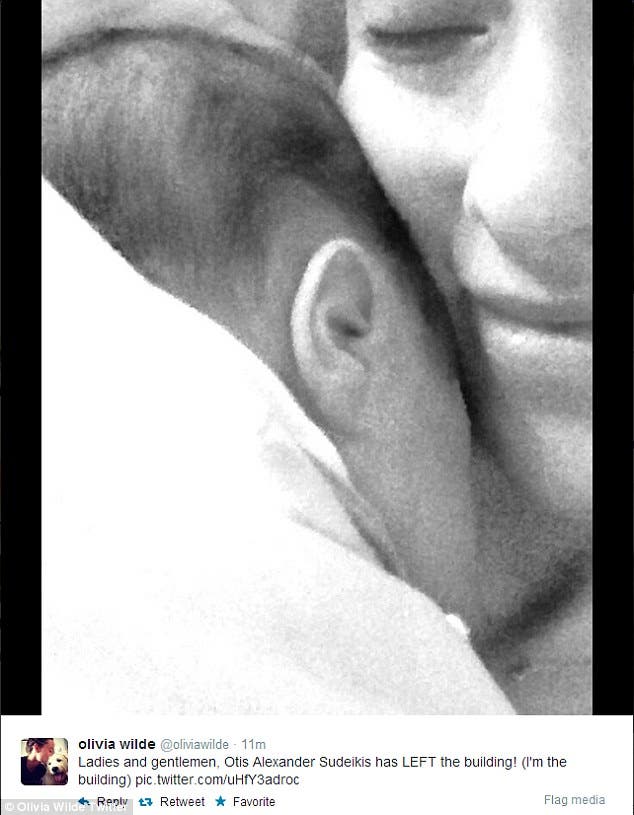 The same day she gave birth, the playful actress also wrote on her page, "Having an infant son alerts me to the fact that every man, at one point, has peed on his own face. #awesome."
This is the first child for Wilde and her 38 year old fiancé Jason Sudeikis. The pair announced they were expecting a baby together in October of last year.
Weeks before giving birth, Wilde talked to the fashion magazine Lucky about her pregnancy.
"Pregnancy does shed away all of the bulls--t. It gives you more empathy because you look at everyone and you think, 'You were a baby!' It also makes you feel closer to other females. Pregnancy brings you into this sort of commune—you feel connected to women in a way that you never have. Not to mention the mother-baby bond that forms: He's moving around in there and no one else can tell—it's a little secret friendship."
Wilde also called her baby bump "a badge of honor."