Detour! Man on camel visits Qatar drive-thru
Video: Comedian Hamad al-Amari trotted his camel through a Burger King drive-thru in Doha
Hunger always strikes when you least expect it, and for one man in Qatar a craving for Burger King apparently set in when he was out for a spin… on his camel.
A video uploaded to YouTube this week, and now going viral on social media, shows a jockey riding his camel through a Burger King drive-thru, all the time in conversation with his trusty steed which he calls "Jim."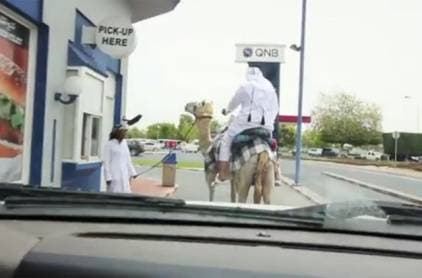 Identified as comedian Hamad al-Amari, the man orders a cheeseburger (and nothing for the camel) and as money changes hands, the animal stands nonchalantly by. When the deal is done and lunch has been purchased, the camel and its rider trot off down the street.
Speaking to Doha News, al-Amari said he had been planning the stunt for two years.
"I just finally got the chance to do it," he said, "I knew that this was something the world would laugh at, not just Qataris or people living in Qatar."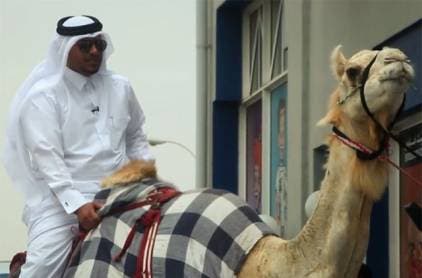 The video was produced by local production company Red Monkey, which al-Amari said procured the camel.
On their official website, Red Monkey explained what happened:
"The lady manning the drive thru was most surprised to be confronted by a man on a camel requesting a 'cheeseburger.' She called for her manager who provided the cheese burger whilst giggling. The manager also took a few pictures for his friends onFacebook and wished the camel and his man a good day.
Local Qatari police later arrived on the scene but took no action against a man getting some cheeseburgers with his Camel. Hamad was quoted as saying 'haven't you seen a man and his camel before' much to the amusement of the police."