Critics slam U.S. med student who is selling 'virginity' online
The woman, who goes by the name of 'Elizabeth Raine,' is now revealing her face – five weeks after making her project public
A 27-year-old American medical student, who happened to have grown up in Saudi Arabia, has incited strong reactions after she began auctioning off her alleged virginity online.
The woman, who goes by the name of "Elizabeth Raine," told Al Arabiya News on Wednesday that despite the criticism, she thinks her actions are not "immoral."
"It is my virginity; it is my morality that matters. It's not as though I'm hurting anyone."
"I also think its really important for people to accept and respect diversity of morality. Intolerance for differences has never led to anything good," she added.
Raine is currently accepting bids on her website. At the time of writing, the highest bid has been made by "Bidder 17" at $550,000.
She is also using her site disclose personal information, as well as several pictures of herself, with an info box on her "specifications." She says she's 5 feet 10 inches, 130 pounds, with measurements of 34A-26-36.
When her campaign initially became public five weeks, the 27-year-old hid her face in photos. Previously, Raine hid her face in photos. Now, she has decided to reveal her face, telling Al Arabiya News: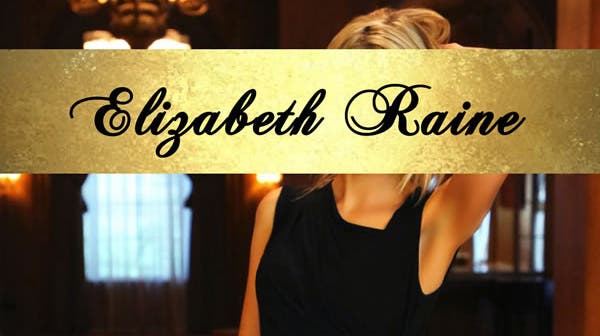 "I did not like the image of shame associated with my anonymity, because I am truly not ashamed and find this lack of shame incredibly liberating. I felt coming out would also show more integrity and less cowardice, and erase a lot of skepticism with regards to the authenticity of the auction."
"My friends and family have all been very supportive - even my father, which I know is surprising for people."
Saudi upbringing
The scandalous med school student also disclosed she grew up in an unlikely place. On her website, Raine states: "The country in which I was raised was Saudi Arabia. My father worked for the Kingdom's primary oil company, Saudi Aramco, for close to twenty years."
She said her father's position afforded her "the absolute best in travel and educational opportunities."
Raine told Al Arabiya News that her childhood was "truly wonderful."
"I had a truly wonderful childhood in Saudi Arabia. I lived in a small and friendly expatriate community on the beach, and I was privileged with opportunities for travel and a fantastic education. I am very grateful for my time there, and all that it has afforded me."
'Sensually stunning'
While Raine is citing financial gain as the main reason for selling her alleged virginity, she wanted to clarify that she was not acting "out of desperation."
"I am not someone who would do anything for money," she told Al Arabiya News.
She also said adventure, eroticism, scandal and the chance to challenge norms about virginity also play into her decision.
But according to international media reports, she plans to donate 35 percent of her virginity earnings to a charity that brings education to women in developing countries.
Introducing herself on the site, Raine states: "I am a sensually stunning, highly educated, and charismatic American woman who has placed a 12-hour date with me atop the auction block.
And did I mention I'm a virgin? Yes, that's right; I have made the bold (but not thoughtless) decision to auction off my virginity. I hope you are intrigued!"
She claims to have bachelor's degrees in both biology and engineering and is currently completing a combined MD/PhD program.
Bidding was launched on March 31 and closes May 7, 2014, according to her site.
When asked under what circumstance she would renege on her deal, Raine said:
"I would back out if I felt unsafe at any point. And while I cannot think of any other circumstances that would cause me to renege, I will always have the right to walk away from this. I feel completely in control."