American Muslims get 'Happy' with Pharrell dance
Following in the footsteps of the British Happy Muslim video, the U.S. version aims to share a snapshot of American Muslim diversity
This week it's the turn of American Muslims to clap, dance, sing and shimmy to the beats and lyrics of Pharrell Williams' international hit single "Happy." Released today, members of the Muslim community across America have spent the past week being filmed across major cities featuring iconic spots such as the White House and New York's Times Square, brought together by the Muslim Public Affairs Council (MPAC), an American Muslim advocacy organization.
Following in the footsteps of the recent British Happy Muslim video, the American version aims to share a snapshot of American Muslim diversity. Hoda Elshishtawy, from MPAC, told Al Arabiya News: "Often, the images of Muslims and Islam in the media are not very flattering; so rather than complaining about it, we changed the conversation with a positive and fun portrayal of American Muslims being themselves and being happy."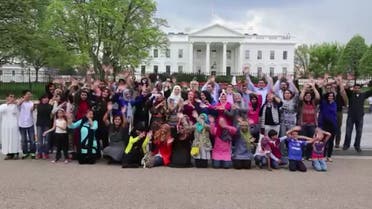 After a call for volunteers on Facebook, MakesSpace, a grassroots organization for Muslim professionals and youth, helped organize the participants for the filming at McPherson Square overlooking the White House.
Inspired by the recent UK Muslim version of the video, Ayesha Mian, a physician from Northern Virginia, went along for the afternoon and joined in the fun by clapping and twirling with a girlfriend.
Mian hopes that audiences are encouraged by the video and view it positively, as she explains: "Music and dancing is a way of expression for many people and this video is supposed to be just that ... our way of expressing ourselves in different forms. I hope that people understand that and do not take away from the positivity of the song and the video."
Since the British Happy Muslims video was released, it has had over a million views on YouTube. Filmed by a group of anonymous young activists called Honesty Policy, who explained in their blog that the video showcases British Muslims as "happy, eclectic, cosmopolitan, diverse, creative, fun and outgoing," it has overwhelmingly been received positively.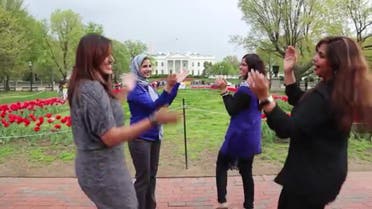 But it also has its detractors who have elicited a debate among Muslims both in the UK and U.S., particularly on aspects of representation. The participation of both men and women publicly dancing has particularly provoked a backlash.
The notion of what is Islamically permissible and not, through labels of "halal and haram," have been vigorously debated both online and offline. There have even been a couple of alternative videos made according to what some perceive as acceptable. The different viewpoints have even garnered national coverage in mainstream British press and on popular radio talk shows. It has provoked an internal discussion among British Muslims about what it means to be British and Muslim and what are the acceptable norms of expression.
With such sensitivities in mind, the organizers made sure, during the filming process, that participants were mindful of this.
"The general consensus of the crowd was that we all wanted to be respectful and observe the values Islam teaches us and be mindful of our own self-respect" explains Hasan Shah, chairman of the board at MakeSpace.
Aware of the debates and reactions that have been sparked by the British Happy Muslim video, Salim Alchurbaji, who works at the U.S. Department of Commerce and was one of the participants in the American Muslim Happy video, hopes that "people do not read too much into it, as some fellow Muslims did in reaction to the British Muslim cover video; where some saw it as an overt attempt at appeasing the dominant and ostracizing culture."
Last year the online "Somewhere In America" Mipsterz video, which depicted Muslim American women, garnered similar disapproval. Accusations of compromised modesty by women and the conflicts between negotiating Western values with Islamic ones have been similarly raised, like last time. But it's the participation of high-profiled Muslim figures like Tim Winters and familiar community leaders and activists like Fuad Nahdi and Julie Siddiqi in the Happy British Muslim video that has ensured that the debate has moved beyond online realms and remains part of a continued conversation within wider Muslim audiences.
The launch of the Happy American Muslims video not only follows in the footsteps of the British version, by affiliating religious identity with geographic identity in its label, but will likely also provoke further debate.
While the American Muslim happy version is an attempt to depict an alternative identity to negative stereotypes, the hope is that it will be "received for what it is, and that is Americans who happen to be Muslim, openly and visibly celebrating this expression of their culture with the rest of the world – their diverse backgrounds and city pride on full display." As Salim further explains, "the #HappyDay movement and their videos have become a celebration of an emotion, a sort of microcosm of humanity's commonality."