Paralyzed Saudi pleads for help on Twitter, receives attention and money
Ibrahim said on his Twitter account that none of his family members were visiting him
An abandoned, paralyzed Saudi man's lonely call on Twitter for someone to visit him in hospital turned the tides and potentially saved his life when thousands of people came to keep him company.
"I am Ibrahim. I am laying in King Khaled Hospital, wing 21, room 3, bed 3. I had an accident, which left me paralyzed. I need stem cell treatment in Germany to recover," he wrote on his Twitter profile.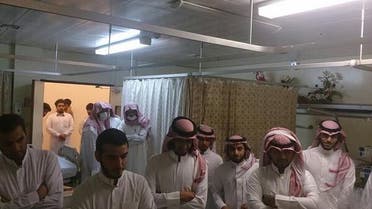 Ibrahim, who has the Twitter handle @gladd2007 said on his social media account that "no one is visiting me, none of my brothers, my father, and no one," urging other fellow Saudi Arabians to visit and comfort him.
However, Khaled al-Ammar, a Saudi businessman, launched on Sunday a fundraising campaign on Twitter to collect two million riyals ($533,312) to send him to Germany to get specialized treatment.
In his campaign, Ammar urged other fellow Saudi Arabian businessmen on his Twitter account to start pitching in their money.
Multiple donators
He wrote: "My fellow businessmen, I suggest an initiative to help treat Ibrahim. We need twenty businessmen to each donate one hundred thousand, to make two million. The first one hundred thousand is from me. Who is next?"
He soon added in another tweet: "the second one hundred thousand is from a well-known business in the eastern region, he asked me not to mention his name. Who is the third donator?"
The initiative has so far was hailed by Saudis.
One Twitter user wrote: " I am not a businessman, but I am ready to donate 500 riyals to my brother Ibrahim."
Another Twitter user added: "this campaign shows the positive side of Twitter."