Jewel of Jeddah: King's pen sends young boy to the world of celebrities
The name of Faisal Abdul Rahman Al-Ghamdi will be included in the list of celebrities to be published by Fox magazine in its next issue
The young Saudi boy whom Custodian of the Two Holy Mosques King Abdullah gave his pen during the recent opening ceremony of King Abdullah Sports City, has been nicknamed the shining jewel of Jeddah and has become a celebrity overnight.
According to the Dammam-based Alsharq newspaper on Monday, the name of Faisal Abdul Rahman Al-Ghamdi will be included in the list of celebrities to be published by Fox magazine in its next issue. The publication is a weekly news magazine of the Fox News Channel.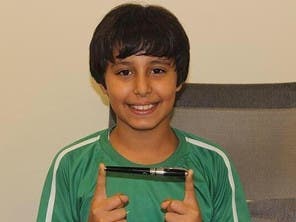 Twelve-year-old Faisal was airlifted to the royal gallery to present the King with a crystal ball to inaugurate the city. The stadium was packed with more than 60,000 spectators who cheered the boy chanting slogans of allegiance to the king.
King Abdullah also presented Faisal and his twin Ahmed, with two Rolex watches each worth SR55,000. The twins, who were born in Jeddah on Sept. 17, 2002, are now wearing the valuable watches.
Their father, Abdul Rahman Bin Nasser Bin Hasher Al-Ghamdi, said people were asking to take pictures with his son holding the royal pen. He refuted rumors that the price of the pen had reached hundreds of millions of riyals and said many VIPs have asked to buy the pen offering prices as high as SR10 million." We don't want to sell the pen or invest in it. I am negotiating with a bank to keep the pen in one of its safes," he said.
The father said Faisal drew a picture of King Abdullah when he was only four years old. He said his son speaks fluent English and a little of French and Spanish. The twins are in sixth grade in Al-Andalus International School and they both love soccer, ice skating, horse riding, drawing and traveling.
This article was first published in the Saudi Gazette on May 13, 2014.