Stylish for Sisi? Egypt TV presenter makes statement in bling necklace
Egyptian media, both state and private, have hailed Sisi as a savior since he ousted Mursi
An Egyptian news presenter has decided to show off her love for former army chief Abdel Fattah al-Sisi by brandishing a bling necklace with his name.
The image of the presenter, who was hosting a program named "The President and the People" on a private TV channel has been widely shared on social media.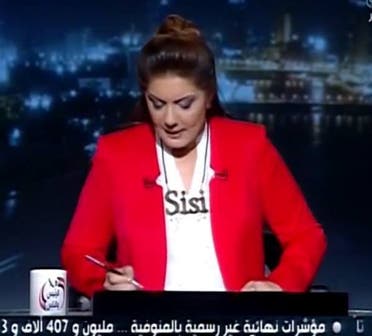 On Twitter user, @_amroali, wrote: "#Egypt's media bling-bling anchors. She must also hv ankle bracelet to match. #SpareUs."
This is just the latest in jewelry, clothing and food products that have come out of Egypt since Sisi, who is soon expected to be announced as president-elect after last week's vote, became widely popular after ousting former President Mohammad Mursi.
His image has appeared on posters, t-shirts and even chocolates.
Egyptian media, both state and private, have hailed Sisi as a savior since he ousted Mursi after mass protests and cracked down on his Muslim Brotherhood.