Egypt's next First Daughter? Meet Aya al-Sisi
Aya Abdel Fattah al-Sisi is the ex-army chief's only daughter and in one picture she appears with friends
The first pictures of the daughter of Egypt's former army chief Abdel Fattah al-Sisi - expected to be formally announced as the country's president soon - were widely circulated on social media on Sunday.
Aya Abdel Fattah al-Sisi is the ex-army chief's only daughter. She has three brothers: Mustafa, Mahmoud and Hassan.
In one picture, Aya appears with friends, while in another, she is snapped with her husband.
On Twitter, Egyptians described Aya as "courteous and polite."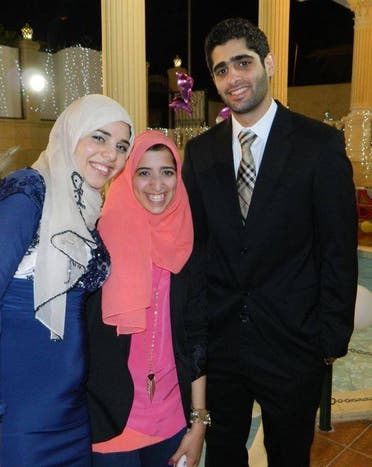 Sisi's family has increasingly entered the spotlight ever since he became a hugely popular figure in the country after leading the ouster of former President Mohammad Mursi last July.
His wife, Entissar Amer, is Sisi's maternal cousin. During a recent TV interview, he said he had loved her since high school, and married her after graduating in 1977. Amer has dedicated her life to raising their four children.
Analysts speaking to Al Arabiya News Channel say Amer does not like media appearances unless they are necessary, and believes that women's natural role is behind her husband and children. Although she had the chance to assume several posts or respectable jobs, she always refused, preferring to look after her family.
In February, Amer officially appeared in public for the first time, sitting next to her husband during a military ceremony in Cairo.
Seeing her wearing the Islamic head covering known as the hijab, and silently sitting next to her husband, Egyptians on social media quickly reacted to her first appearance.
Even then, Twitter users hailed her as "Egypt's First Lady," and proclaimed that "behind every great man there is a woman." Others said that the pictures served to dismiss commonly-held claims that she was a "niqabi" (a woman who wears the niqab, a face-covering veil worn by some highly-conservative Muslim women).