Sisi's top fan? Haifa Wehbe cheers for Egypt
She's been no stranger to displaying her love for Egypt and the Egyptian army, now she's sent a heartfelt message to the country
She's been no stranger to displaying her love for Egypt and the Egyptian army.
But now, Lebanese diva Haifa Wahbe has sent the country a heartfelt congratulations after former army chief Abdel Fattah al-Sisi was officially announced president on Tuesday.
"I can't begin explain my feelings as I am watching the results of the [presidential] elections and the joy of the Egyptian population with the victory of President Abdel Fattah al-Sisi," Haifa wrote on her personal Twitter account.
"Congratulations to the mother of the world. [Wishing Egypt a] new era of security and stability," she added.
Wahbe wasn't the only songstress to praise the former army chief on his victory.
Elissa, another Lebanese singer wrote: "Congratulations to the Egyptian people.. finally Egypt has gained a courageous President..very happy and wish a prosperous future 2 Egypt."
"Egyptians deserve all happiness and settlement.. Egypt just wait, the best 2 come!! May peace and prosperity spread all over the Arab world," Elissa added.
Meanwhile, Egyptian star Sherine Abdel Wahab also shared her thoughts on social media and congratulated the new president before thanking the interim president Adly Mansour.
"Thank you to the former President Adly Mansour," she wrote. "Congratulations to Gen. Abdel Fatah al Sisi, the president of the Egyptian Arab Republic and congratulation to the Egyptian population."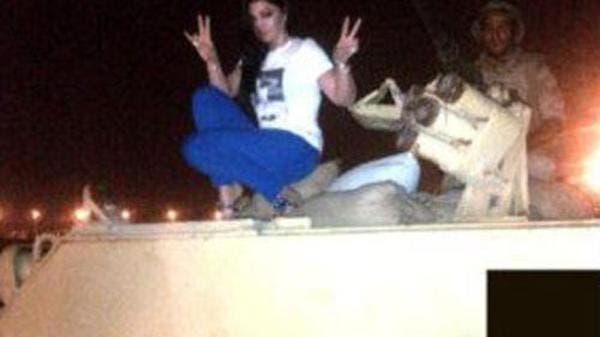 In September last year, following the army-led ouster of Islamist President Mohammad Mursi, Wehbe displayed her love and support for the military by posing next to a soldier on top of a military tank for pictures and flashing peace signs.
She tweeted the picture along with "Viva the Egyptian Army, respect! #HaifaInCairo #Egypt."
She also changed her Twitter profile photo to the Egyptian flag and tweeted: "May God protect Egypt and the Egyptian people and give them victory and stability."