Feed your football fever with these delicious World Cup snacks ‏
Kick crisps, junk and tasteless fatty foods firmly off the menu for your football party
Ready to cheer, shout and groan at that goal, dribble and missed penalty? The FIFA World Cup is set to kick off and as you settle in to watch the action, you may find yourself nibbling at the wrong sort of treat. Kick crisps, junk and tasteless fatty foods firmly off the menu for your football party and try these delicious, and surprising, snacks instead. Your FIFA mad friends will love them!
'Make your own' Trail Mix
Ingredients:
• ¼ cup whole shelled (unpeeled) almonds
• ¼ cup unsalted dry-roasted peanuts
• ¼ cup Pumpkin seeds
• ¼ cup dried cranberries
• 1 tablespoon chopped pitted dates
• ¼ cup dark chocolate chips
• 1 cup multigrain oat cereal
• ¼ cup Raisins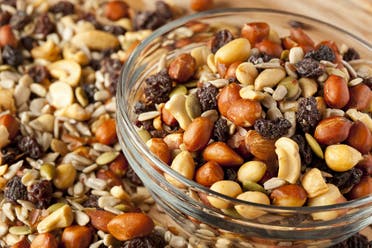 Method
Preheat the oven to 180°C. Toss the almonds, peanuts, and pumpkin seeds with a pinch of salt and spread on a baking sheet. Toast for 10 minutes until golden, stirring halfway through. Let the nuts cool completely; Mix the nuts with the dried fruits, chocolate chips, and oat cereal; Serve in jars.
Nutrition Bonus:
This recipe is rich in powerful disease-fighting antioxidants which help protect your body from the cellular damage that results in heart disease, cancer, and aging.
Baked Arabic chips with Chunky Guacamole
Ingredients (Baked Arabic chips)
• 4 medium loaves Arabic bread
• 2 tablespoons olive oil
• ¼ teaspoon salt
• 1 teaspoon ground cumin
• 1 teaspoon chili powder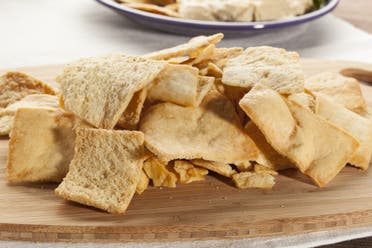 Method (Baked Arabic chips)
• Preheat oven to 180°C.
• Split Arabic Bread; cut each into 6 wedges. Place wedges in a large bowl. Drizzle with oil; toss to coat.
• Combine salt, cumin, and chili powder in a small bowl. Gradually sprinkle spice mixture over wedges, tossing to coat. Spread wedges in a single layer on 2 large baking sheets.
• Bake at 180°C for 12 minutes or until crisp and golden. Let cool completely on pans. Store in an airtight container.

Chunky Guacamole
Ingredients
• 4 ripe avocadoes
• 1 medium squeezed lemon juice
• 8 dashes hot pepper sauce
• 1 small onion, diced
• 1 large garlic clove, minced
• 1 teaspoon Salt
• 1 teaspoon freshly ground pepper
• 1 medium tomato, seeded and small diced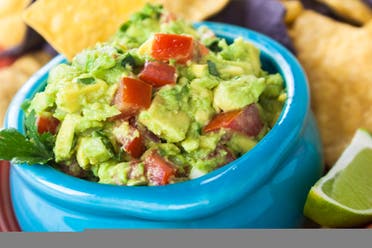 Method
Cut the avocadoes in half, remove the pits, and scoop the flesh out of their shells into a large bowl; Add lemon juice, hot pepper sauce, onion, garlic, salt, and pepper and toss well; Mix well but make sure to keep the mix chunky; Add the tomatoes; Add salt and pepper to taste
Nutrition Bonus
This recipe is an excellent source of healthy fats in the form of monounsaturated fat which reduces levels of bad cholesterol in your blood and lowers your risk of stroke and heart disease.
Vegetable sticks with hummus tahini dip
Ingredients
• 5 tablespoons water
• ¼ cup fresh lemon juice
• ¼ cup tahini (roasted sesame seed paste)
• 3 tablespoons olive oil
• Click to see savings
• ½ teaspoon salt
• 2 cups boiled chickpeas (garbanzo beans), rinsed and drained
• 1 garlic clove, crushed
• ½ teaspoon paprika (optional)
• Fresh chopped flat-leaf parsley (optional)
• 1 tablespoon pine nuts, toasted (optional)
• Vegetable sticks (cucumber, carrots, zucchini, green/red pepper, celery)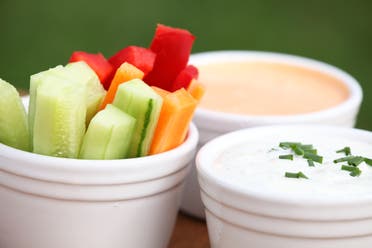 Method
Place first 7 ingredients in a food processor; process until smooth, scraping sides as necessary; Spoon hummus into a bowl; Sprinkle with paprika, parsley, and pine nuts, if desired; Serve with vegetable sticks.
Nutrition Bonus
This recipe contains both folic acid and iron which are needed to make healthy blood and can help fight anemia.
Sweet and spicy popcorn
Ingredients
• 100g bag low fat salted microwave popcorn
• ¼ teaspoon chili powder
• ½ teaspoon cinnamon
• 1 tablespoon agave syrup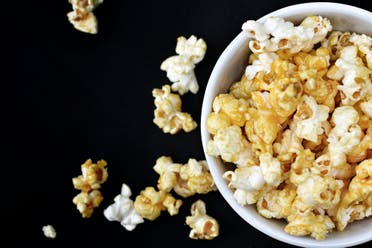 Method
Cook the microwave popcorn according to the packet instructions. Tip into a large bowl. Sprinkle over the spices, and then pour over the agave syrup. Stir and serve warm.
Nutrition Bonus
Not only is it low in calories, but if you eat this you'll have a calorie burning edge over others. Spices like chili are thought to raise metabolism by up to 50 percent for up to three hours after consumption.
Grilled Halloumi cheese and tomato skewers
Ingredients
• Low fat Halloumi Cheese
• Cherry tomato
• Fresh Basil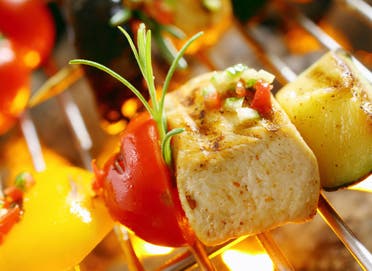 Method
Grill the cheese in a skillet; Cut the grilled cheese into squares; Skewer it up with the tomato and fresh basil.
Nutrition bonus
This recipe helps you incorporate lean protein into your diet. Getting adequate protein in your diet can offer myriad health benefits whether you are looking to lose weight, bulk up, improve heart health or boost your energy levels.
Banana split skewers
Ingredients
• 2 tablespoons melted dark chocolate chips
• 3 medium/large strawberries
• 1 medium banana
• 1 kiwi, cut into 3 pieces
• 1/4 cup blueberries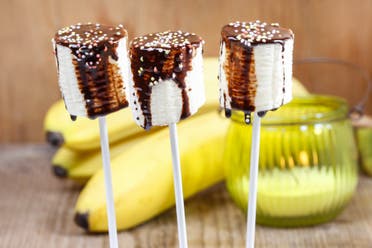 Method
Melt the chocolate in the microwave; Cut the banana into thirds and dip into the melted chocolate; Skewer the rest of the fruit.
Nutrition bonus
One of the simplest tricks to good nutrition is to eat a variety of colors. Each color is packed with different vitamins, minerals, and phytonutrients. This colorful plate is loaded with an array of nutrients that work together that helps keep your body in tiptop shape.