Egyptian actress says a visit from Sisi 'worth sex attack'
Sisi on Tuesday had paid a hospital visit to the woman who was sexually assaulted by a mob in Cairo's Tahrir Square
Top Egyptian actress Ghada Abdul Razek stirred anger on social media on Friday after saying she wished she was a victim of sexual harassment so the newly-sworn in President Abdel Fattah al-Sisi would visit her, as he did on Tuesday with the victim of an earlier attack.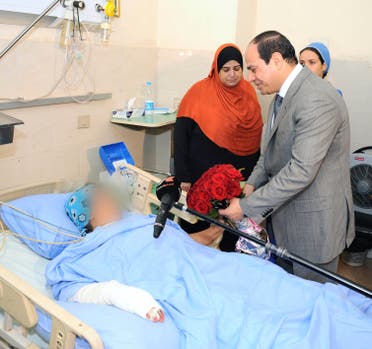 Sisi had paid a hospital visit to the woman who was sexually assaulted by a mob in Cairo's Tahrir Square during a weekend celebration marking his inauguration.
Abdul Razek posted a photo of Sisi visiting the woman on her Instagram account, alongside the comment: "Yesterday I saw this scene when I was on set and I told them how lucky the woman is [to be visited by Sisi], can't anyone harass us? You really are a respected president and we are glad we chose you."
Her comment offended many of her followers, who were specifically angered by her comments on being harassed. Her fans, however, supported her by explaining her comments were merely a joke.