World Cup sex rules: Which teams give players freedom in the bedroom?
For England, France, Brazil the World Cup sex guidelines seem to be complicated
Coaches of some national teams competing for the World Cup have imposed rules on the players' activities inside the bedroom to ensure their physical energy and fitness is preserved.
Although no scientific studies have confirmed whether pre-sports sex hampers the players' energy or stamina, according to a report by the National Geographic some coaches of national teams taking part in the World Cup prefer to take precautions and restrict their players' sexual activity during the tournament.
Anti-Sex
Russia, Mexico, Chile, and Bosnia and Herzegovina have all completely banned their players from having sex during the competition, the New York-based Quartz has reported in its "complete guide to World Cup sex rules."
"If a player can't go one month or 20 days without having sexual relations, then they are not prepared to be a professional player," Mexico's manager Miguel Herrera was quoted as saying in May, according to Football Italia.
Safet Susic, the coach of Bosnia-Herzegovina's football team was even more assertive with the ban.
"There will be no sex in Brazil. They can find another solution; they can even masturbate if they want. I am not interested what the other coaches do, this is not a holiday trip, we are there to play football," Susic told reporters in April.
Russia's team has prohibited wives and girlfriends of footballers (WAGs) from flying to Brazil to cheer their loved ones, according to Quartz.
Sex-wary

France, Brazil, Costa Rica, Nigera and England all allow their players to meet their lovers, but must abide by specific conditions.
France allows permits sex as long as the process is not all-night activity and is of certain type, which was not revealed.
Brazilian's coach Luiz Felipe Scolari warned his players to keep the bedroom activity simple, and not "too acrobatic."
"Usually normal sex is done in a balanced way but some like to perform acrobatics. We will put limits and survey the players," Metro website quoted Scolari as saying at a press conference in April.
The coach did not specify how he plans to monitor their bedroom performance.
Meanwhile, Costa Rica's coach Jorge Luis Pinto banned WAGs from flying to Brazil so the players can stay isolated and focused. But he promised a reward if the team qualifies for the second round.
"I can assure, with no doubts, they will be able to 'enjoy themselves' just as soon as they qualify for the next round," The Tico Times reported last week.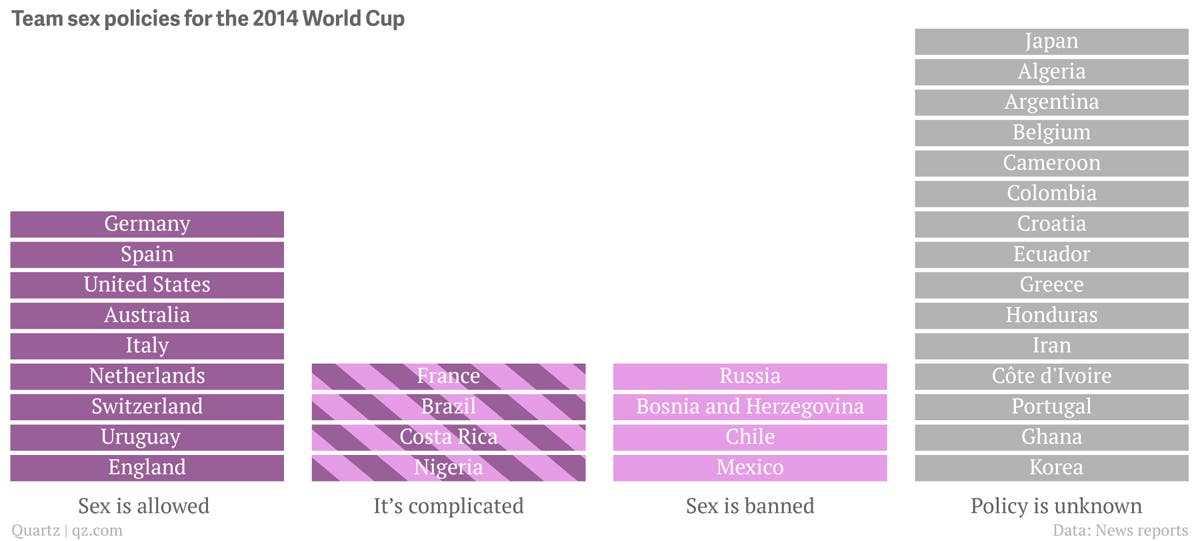 In an off-shoot, Nigeria coach Stephen Keshi has allowed players to bring along their wives, but not girlfriends, to the international tournament, My Ghana Online reported earlier in April.
Pro-Sex
Germany, Spain, the United States, Australia, Italy, Netherlands, Switzerland, Uruguay and England are all allowing their players to enjoy sex during the World Cup.
For England, the permission come as "huge relief" from the restrictions set in 2010's World Cup by former manager Fabio Capello – now the manager of Russia's national football team – who limited the players' access to their lovers to only one day after a match.
Italy's Cesare Prandelli, seem to believe the presence of WAGs and children would benefit the players by allowing them into the team's training camp in Brazil
"It is a novelty that I think will do the group good. The harmony and presence of children help to calm the tension," Prandelli was quoted by Football Italia as saying.
But Prandelli has banned his players from using Twitter during the tournament, in an attempt to keeping them isolated from chaotic anti-World Cup protests taking place in the country, the Italian news website reported.