Fasting? Liven up Ramadan with delicious dishes from the Mideast
Why not broaden your culinary horizons with these traditional recipes that are oh-so-easy to follow
With the holy month of Ramadan now upon us, different cultures around the world are cooking up their traditional Ramadan treats. Muslims who observe the month of Ramadan will abstain from food and drink from dawn to sunset and break their fast with an array of delectable dishes.
It could surprise you that not all Middle Eastern countries cook-up the same foods, so why not broaden your culinary horizons with these traditional recipes that are oh-so-easy to follow.
Lebanon
It's fair to say that Lebanese cuisine is popular around the world. From Baba Ghanouj to their scrumptious Baklava, their meals are rich and made with lot of herbs and fresh ingredients – such as parsley, oregano and hummus.
Kibbeh
A fine paste of lamb or beef which is infused with pine nuts and onions, then deep fried will have you drooling after you serve it with garlic-yogurt sauce.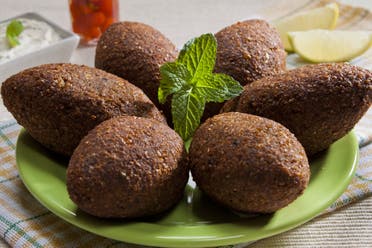 Ingredients:
1 ½ cup bulgur wheat
1 ½ pounds ground beef
1 ½ cup chopped white onions
3 teaspoons ground cumin
2 ¼ teaspoons salt
1 ½ teaspoons grinded black pepper
1/3 cup roasted pine nuts
1 cup yogurt
1 tablespoon virgin olive oil
Cooking Instructions:
1. Place the bulgur wheat in a bowl and cover with water for 20 minutes then drain in a strainer.
2. In a large bowl blend beef, onions, cumin, salt, pepper and bulgur till a paste arises and it starts feeling like a soft dough.
3. Cook the dough in a large skillet for about 4 minutes, then remove and add pine nuts.
4. Finally mixture into egg-sized balls, dip it in preheated oil and let it cook for 6 to 8 minutes.
5. Drain any oil then serve with yogurt.
Or, why not try Lamb Fatteh? Seasoned with kosher salt, this juicy dish will have you asking for more. Bits of pita casserole marinated with yogurt and then sprinkled on top of chick peas… delicious.
Shanklish
This feta-like cheese (Labne) is rolled in olive oil and sprinkled with chili powder, cloves and rosemary.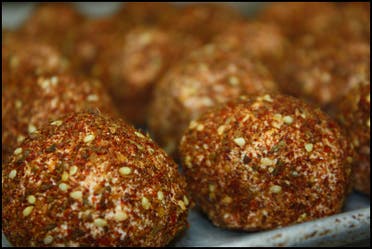 Ingredients:
250 g feta
1 teaspoon oregano
½ teaspoon chilli powder
½ teaspoon paprika
½ red onions
2 tomatoes
1 teaspoon extra virgin olive oil
Cooking Instructions:
1. Mix the feta into a bowl whilst scattering oregano, chilli and paprika on it.
2. Give them a good stir and the plough onions and tomatoes after drizzling oil over it.
3. Serve with bread/pita.
Egypt
Known for their okra (Ladyfinger) and meat stew, Egypt's exquisite array of casseroles vary from Ful Medames (Fava beans) to stuffed Zucchini.
Koshari
The ubiquitous national dish has lentils, macaroni and rice stuffed into a single dish and then topped with a spicy tomato sauce.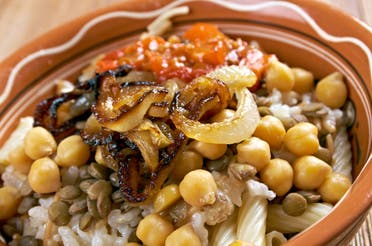 Ingredients:
140 g lentils (brown)
1 cup white rice
60 g small-shaped macaroni
¼ cup olive oil
1 chopped onion
2 tablespoon olive oil
1 chopped garlic clove
1 chopped red chilli
1 cup (280 ml) Tomato purée
Cooking Instructions:
1. Start with the tomato sauce first.
2. Cook the onion and garlic until they turn golden on a frying pan. Then stir in some chilli and the tomato purée while adding 250 ml of water.
3. Finally, keep stirring the mixture till it sizzles and slightly thicken.s.
4. Cook lentils in a saucepan for 25 minutes until it tenders. Drain it, and then set it aside.
5. Cook macaroni in a pan for 25 minutes until it tenders. Drain it, and then set it aside.
6. Finally, transfer into a bowl, then pour oil from pan over lentil mixture and stir it over a high heat for 5 minutes.
7. Top with onions tomato sauce.
Or, why not try Kishk? A fine cereal-like mixture that has crumbs of burghul with chicken broth and garlic accompanying it
Molokhia
Molokhia is a soup that's made from Jute plant which has a strong garlic taste to it. Usually this dish has chicken pieces added to it. While it can be made from frozen or dried leaves, most restaurants serve both versions with rice.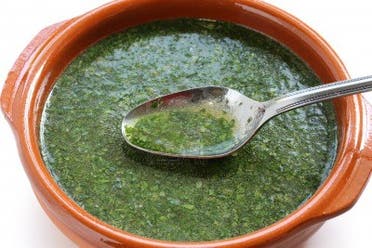 Ingredients:
5 garlic cloves
2 lemons
Salt and pepper
2 bay leave
1 large brown onion, peeled and halved
100g butter
750g molokhia (Jute plant)
½ tablespoon ground or 1 tablespoon fresh coriander (optional)
Cooking Instructions:
1. Pour 1 liter of water and boil it in a pot.
2. Add bay leaves, salt and onion halves.
3. Melt 2 spoons of butter in a skillet – in order for the coriander and the garlic cloves to soak in.
4. Sink the molokhia in the pot and stir it over hot temperature (not boiling).
5. Let it simmer for 5 minutes then season with salt and pepper.
6. Serve on a bed of rice or in a bowl with a loaf of bread.
Turkey
A colorful cuisine is what you look forward to when the fast breaks, that's exactly what Turkish food is known for!
Dolma
Little tangy bundles of vine leaves stuffed with long grain rice that could be served as part of the main course or as a side dish. These appetizers are equivalent to stuffed cabbage rolls popular in some Western countries.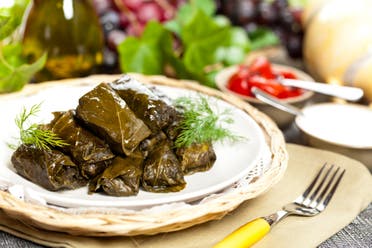 Ingredients:
1 jar of grape leaves
1 medium yellow onion
4 cloves garlic
4 tablespoon olive oil
1½ cups long grain rice (uncooked)
6 tablespoon lemon juice, divided
1 tablespoon salt
2 tablespoon (1-2 sprigs) fresh mint, minced
Cooking Instructions:
1. Dice the onion and mince the garlic.
2. Cook them in a skillet with 2 tablespoons of olive oil over medium heat until they are soft and translucent.
3. Add the rice, mint, salt and ¼ cup of lemon juice to the mixing bowl with the cooked onions and garlic. Stir to combine well.
4. Unfold the grape leaves from the jar and lay flat.
5. Add 1 tablespoon of rice on top and roll it gently - don't tighten it up as rice will expand when the whole Dolma is cooked.
6. Place the finished Dolmas in a pot and drip lemon juice and olive oil on top of them.
7. 30 to 40 minutes later, remove the Dolmas and serve.
Tzatziki
A classic Greek side dish that is made from yogurt, garlic and lemon juice, it is also widely popular in Turkey.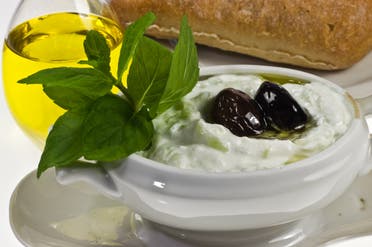 Ingredients:
350g natural yoghurt
1 garlic clove, crushed
1 Lebanese cucumber, grated
Pinch of salt
Freshly ground black pepper
Pinch of dried mint
1/4 cup chopped coriander leaves
Cooking Instructions:
In a medium bowl, combine Greek yogurt, cucumber, lemon juice, garlic, and dill. Stir until well combined. Taste and season with salt and pepper. If you have time, chill before serving.
Looking for a more meaty dish? Try Turkish kebabs - coarsely skewered minced lamb kebabs with black pepper which are sometimes served with yogurt.