Can't win if you sin! Cleric explains Brazil's loss
The cleric tweeted that Brazil had lost to Germany because they 'presented the World Cup on bare stomachs and naked bodies'
There may be a religious reason as to why Brazil lost its World Cup semi-final game so dramatically to Germany, according to one Saudi-based cleric.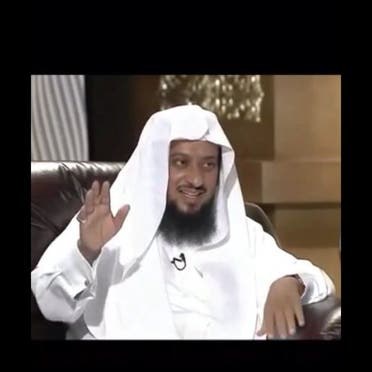 Following Brazil's dismal 7-1 defeat on Tuesday, Sheikh Saad al-Duraihim tweeted in Arabic that the World Cup host had lost the match because they "presented the World Cup on bare stomachs and naked bodies."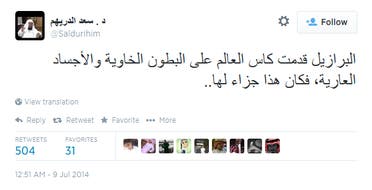 His post was ridiculed by many on Twitter, with one user sarcastically replying that Germany had won because they were "busy praying Taraweeh, (special night prayers during the Islamic holy month of Ramadan)."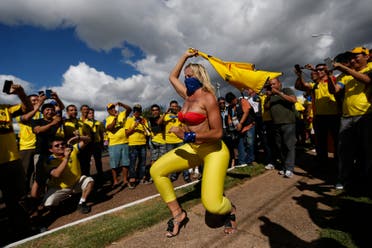 During the game, fans across the globe expressed their disbelief through social media, mocking the Brazilians with hilarious tweets.
See also: Brazil World Cup bombshell spawns hilarious memes
Germany scored five goals in 18 first-half minutes on the way to a 7-1 destruction of Brazil in the semi-final on Tuesday to leave the host nation in a state of stunned disbelief at the most amazing World Cup result of all time.

The European giant took full advantage of Brazil's terrible defending with brilliant passing and movement to march into the final and hand the host nation their heaviest ever World Cup defeat.

An unmarked Thomas Mueller got the first from a corner after 11 minutes before Miroslav Klose struck to become the World Cup's all-time leading scorer with 16 goals.

Brazil's defense, badly missing the suspended Thiago Silva, fell apart as Toni Kroos grabbed two in three minutes before the superb Sami Khedira added a fifth in the 29th minute to leave the crowd, and millions watching on TV, in a state of total shock.

Brazil's few second-half attempts were foiled by in-form goalkeeper Manuel Neuer and Germany substitute Andre Schuerrle banged in the sixth in the 69th minute and lashed in a seventh to inflict Brazil's first competitive home defeat in 64 matches and 39 years.

Oscar scored a consolation goal for Brazil in the last minute.
Brazilian newspapers, sports and television commentators were unanimous on Tuesday that the match's result was the greatest shame in the country's illustrious footballing history.

"Historic Disgrace" read the massive headline on the website of the Folha de S.Paulo, Brazil's most influential newspaper.
"It is the biggest embarrassment in 84 years of the Cup. It was 10 minutes of compete blackout. You can't do that in the semi-final of the World Cup," said Galvao Bueno, Brazilian television commentator and presenter.
"The Germans played the way we liked to play so we need to sit back, see what is wrong with Brazilian football. Especially in the academies, the way we teach them to play. A lot of change will need to come," said Juninho, former Brazil midfielder.
(With Reuters)