Golden 'devil:' Customized Saudi Range Rover bedazzles London
The car was shipped from Saudi Arabia and has been spotted parked outside London's Wellesley Hotel in Knightsbridge
London's streets reached a new level of luxury as a Saudi-owned gold Range Rover, with a "666" number plate, joined other Arab supercars that continue to roam the capital's roads, the Daily Mail reported.
The car was shipped from Saudi Arabia and has been spotted parked outside London's pricey Wellesley Hotel in Knightsbridge.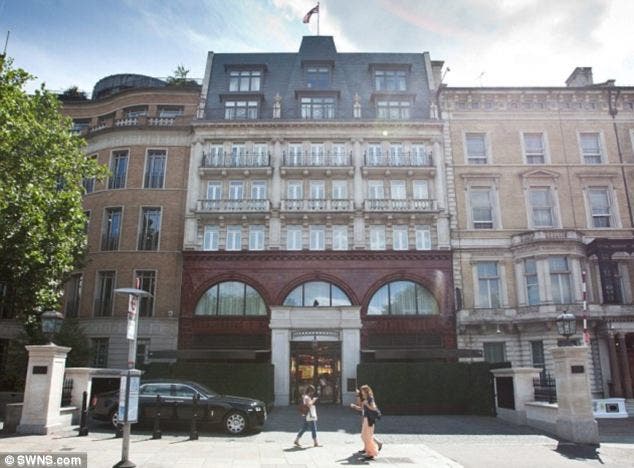 The vehicle is originally priced at $169,000 but the custom modification bumped up the price to a reported $253,000.
Read also: 'Ramadan rush hour' as supercars hit London streets for Eid
The modifications include a customized body-kit with oversized bumpers and a bonnet vent with a 666 number plate, typically associated with the devil in pop culture, in addition to a gold painted motor.
Twenty-three-inch alloy wheels and customized black and gold wrap add to the off-roaders' unique appearance.
These modifications are part of the 'Mystere' upgrade and were added by German hauling house Hamann.
This car joins a legion of other luxurious cars that were flown into London by their Middle Eastern owners who vacation in the UK during summer holiday breaks.
"Range Rovers don't normally stand out because there are so many of them in London, but this one is different" one local resident said.
"You can't miss it. It is amazing that the owner, who must be quite rich, decided to have it wrapped gold-colored. It is so eye-catching, but I don't think it will be winning any style awards" he added.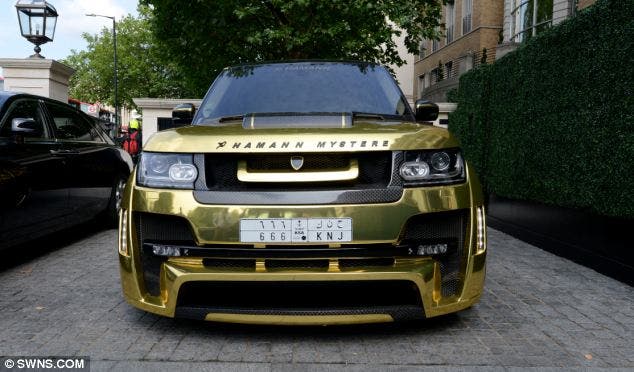 The local resident also said the gold Range Rover outshone a Rolls-Royce Ghost parked next to it. "It is not often that a Rolls-Royce looks like the understated car," he said.

Skirmishes with the law

West London residents have complained that London was being swamped with super cars that were disruptively driven.
In 2010, a $20 million Koenigsegg CCXR, and a $600,000 Lamborghini Murcielago were fined and tolled outside famous department store Harrods for suspicion over their cars' insurance, which experts said would cost more than $84,000 per year.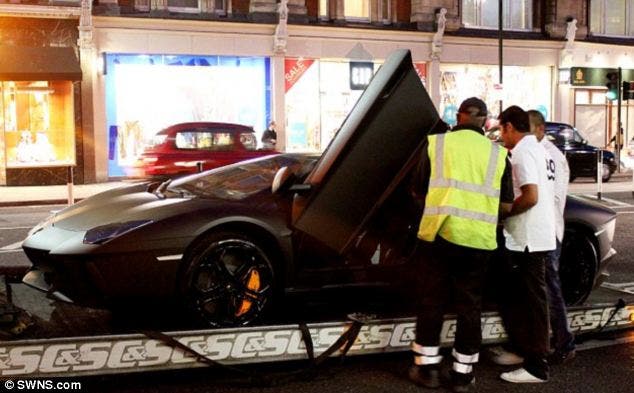 Tourists gathered around the cars, which were believed to belong to the Qatari royal family, as they were being tolled.
2010 marked the first summer of the 'invasion of Arab supercars' of London. The 'invasion' included a $2 million Bugatti Veyron and a $843,000 Mercedes Benz McLaren SLR, both chrome-finished with Middle Eastern plates spotted outside the Berkeley Hotel in Knightsbridge.
Some of the Arab supercars spotted around the city include– Lamborghinis, Ferraris and Bugattis that have all attracted crowds of camera-carrying youngsters, also known as the Carparazzi's.