Venue offering sex-themed juices irks Saudis
'Viagra,' 'Super Viagra,' 'Arabian Nights,' or simply 'Lovers' Panche' are names of drinks offered by a Saudi restaurant
A restaurant offering drinks "exclusively for married couples" has reportedly raised eyebrows in Saudi Arabia over its sex-themed drink names, a local newspaper reported Monday.
Restaurant goers can choose from an array of drinks which bear such racy names as "Viagra," "Super Viagra," "Arabian Nights," or simply "Lovers' Panche," Makkah Newsapaper reported, attaching a picture of the restaurant's menu.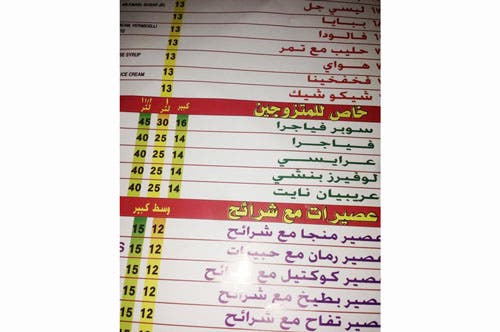 Restaurant goer Khaled al-Mahawish visited the restaurant in the western city of Taif, according to the newspaper.
"When you are at such restaurant, you are shocked when one of your children ask you a question about the drinks, what would you [tell] them?" al-Mahawish said.
The newspaper, which described the restaurant as "famous," did not disclose its name.
Another reported visitor, Fahad al-Otaibi, told the newspaper that names of the drinks are riddled with sexual innuendo, urging managers of the restaurant to be more tactful.
A spokesman of Taif's city council, Ismail Ibrahim, told the daily that the local government cares first and foremost about the ingredients in the beverages.
Ismail said the ingredients of the drinks would be looked into, meanwhile he said the issue of the "strange names" would also be looked into.