Sisi performs umrah during Saudi Arabia state visit
Umrah is an Islamic pilgrimage to Makkah that can be made at any time of the year
Egyptian President Abdel Fattah al-Sisi has performed umrah in Makkah while on an official state visit to Saudi Arabia this week.
Umrah is an Islamic pilgrimage to Makkah that can be made at any time of the year.
Saudi King Abdullah bin Abdulaziz received Egyptian President Abdul Fattah al-Sisi at his palace in Jeddah on Sunday evening, the state-run Saudi Press Agency reported.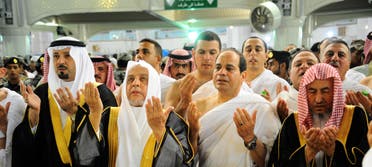 The two heads of state discussed both regional and international issues, as well as the Gaza conflict. They also discussed ways to boost bilateral ties and cooperation between the two countries.
During their meeting, the Saudi king presented Sisi with the King Abdulaziz Necklace, the highest and most prestigious medal in Saudi Arabia.