Boycotting Israel through art and culture – a new trend?
There's been a vigorous debate, one in which pro-Israeli activist have sought to portray the BDS movement as discriminatory and anti- Semitic.
Are Pro-Palestinian efforts to initiate a cultural boycott of Israeli art beginning to harm the Jewish state's vibrant arts scene? With two Israeli-backed shows canceled at the Edinburgh fringe and the North London–based Tricycle theatre embroiled in tussle with the UK Jewish film festival over funding by the Israeli Embassy, opinion has been divided in "two of Europe's top cultural capitals," and has provoked a national debate, one which is threatening the relationship between the British Jewish community, Israel and the art world.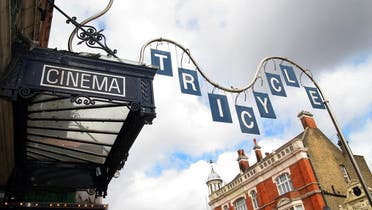 The cultural boycott of Israel phenomenon has been gathering pace since a broad coalition of Palestinian solidarity groups established the Boycott, Divestment and Sanctions movement (BDS) in 2005.

The BDS movement supports a wide range of boycotts from economic to cultural with the aim of highlighting Israel occupation and colonization of Arab lands occupied in June 1967 and to restore full equality between Israeli Jews and Arabs.
The flaring up of current hostilities in Gaza, appears to have given some momentum to the cultural boycott movement. With no geopolitical issue more polarizing in the UK than Israel and Palestine, this has led to lively debate accompanied by compelling arguments on both sides.
There's been a vigorous debate, one in which pro-Israeli activist have sought to portray the BDS movement as discriminatory and anti- Semitic.

Whilst some commentators were blunt on the accusation, such as Stephen Pollard, editor of the Jewish Chronicle, others, have asserted that Jewish culture is inextricable to Jewish identity and thus a boycott resonates as an attack on a people and their identity rather than a political pressure point, the UK's Guardian note in an editorial:
"For the Israeli embassy in London is not merely an outpost of the Netanyahu government. It also represents Israel itself, its society and its people. It was this connection with Israel as a country that UK Jewish Film refused to give up. Hard though it may be for others to understand, that reflects something crucial about contemporary Jewish identity: that most, not all, Jews feel bound up with Israel, even if that relationship is one of doubt and anxiety. To demand that Jews surrender that connection is to tell Jews how they might – and how they might not – live as Jews. Such demands have an ugly history. They are not the proper business of any public institution, least of all a state-subsidized theatre."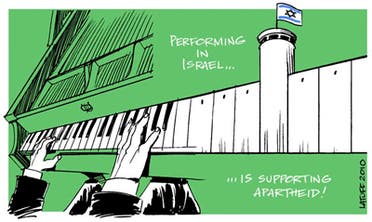 Others argue that such arguments do not take into account the prevalence of many Jewish voices that form part of the increasing diverse BDS Movement.

With a growing number of prominent Jewish voices lending their support to cultural boycotts, the assertion of anti- Semitism is a highly contentious one.
Before pulling the plug, in London, the Tricycle theatre attempted to accommodate the UK Jewish Film Festival, offering to match the Israeli embassy's funding money of approximately £1400 ($2300).

This was passionately rejected by pro-Israel campaigners and the Tricycle was accused of 'banning Jews' in a reference to 1930's Nazi Germany.
With anti-Semitic incidents on the rise across Europe, some commentators like the Independent's Owen Jones have strongly asserted that it is vital to not conflate criticism of Israel's policies with acts of hate and discrimination against the Jewish community both in the UK and worldwide.
The cultural boycott component of the BDS movement is described as "one the most thorny" because "art prides itself on its power to build bridges".

However, a point of agreement for both supporters and detractors is that Israel's cultural output is an attempt by the Jewish State at soft diplomacy.

Thus all cultural production by Israel are often either cynically viewed as playing an ambassadorial role on an international stage or they provoke a debate about the moral dynamics of the current conflict.

Either way, the commonality places a spotlight on human rights and equality for all and thus reinforces the aims and objectives of the cultural boycott movement for both Israelis and Palestinians.