ISIS lingerie? UK chain 'sorry' for launching new line
Top lingerie brand Ann Summers has been forced to say it does not support terrorists after coming under fire for the new underwear line
Top lingerie brand Ann Summers has been forced to say it does not support terrorists after coming under fire for launching a new underwear line which shares the same name with Islamic terrorist group ISIS.
The name of the new "Isis" line, which includes suspenders and plunge bras, was named after Egyptian goddess Isis, rather than the extremist group," a spokesperson for Ann Summers said.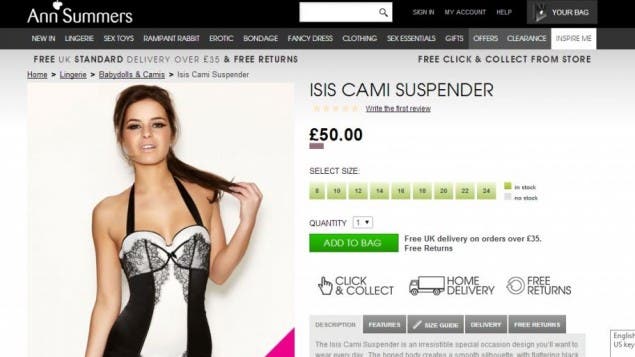 "We acknowledge the unfortunate timing of this product launch in our store windows, however we in no way support or condone any act of terrorism or violence. We apologize for any offence caused."
"In this instance, the inspiration behind this range name was taken from the Ancient Egyptian goddess Isis," the spokesperson said.
It does not seem that the name of the product line will be changed, however.
A source told the Independent that it was "too late to change" the name, adding: "We thought up the name over six months ago."
The launch comes soon after U.S. photojournalist James Foley was murdered by an ISIS member, who is believed to be a British jihadi, in an action branded as "appalling" by British foreign secretary Philip Hammond.
The acronyms of the militant group, also known as ISIL, are also unwittingly shared by several other organizations in completely unrelated fields.
See also: Maternity bras and law firms: the unlikely victims of ISIS' name
The deputy director of the Indian Society of International Law (ISIL), V.K. Singh, told Al Arabiya News in June that: "[Having the same acronym] could be an embarrassing situation for anyone to be seen in [accordance] to a group like that, but it has not [in] any way destabilize[d] our integrity."
Meanwhile, a U.S.-based maternity lingerie company sells the "Isis Blue Maternity & Nursing Bra," among other products.
"[The bra] is for the breastfeeding mom and the pregnant mom, so I'm sure that she'll just giggle and move on," Uyo Okebie-Eichelberger, founder of Atlanta-based You! Lingerie told Al Arabiya News.