Is 'Burn ISIS Flag Challenge' the new Ice Bucket?
The #BurnISISFlagChallenge took off following reports of the beheading of a Lebanese army by the militant group
In the latest variation of the ALS Ice Bucket Challenge, Lebanese social media users have launched a campaign in which they burn the banner affiliated with the Islamic State in Iraq and Syria (ISIS).
The #BurnISISFlagChallenge took off following reports of the beheading of a Lebanese army by the militant group, which now controls large swathes of territory across northern Iraq and Syria.
Like the ALS challenge, the #BurnISIS challenge, another hash tag used to refer to the craze, features people posting photos and videos setting the infamous black and white banner on fire.
One user posted a tweet in support of the hash tag, writing: "Lebanon, you're awesome."
"We burn flags in anger to protest against the people who cut throats for fun," another user, who calls himself the Angry Lebanese, tweeted explaining the hash tag.
However, some have expressed concern considering the Islamic shahada, or declaration of faith, featured on the flag.
For this reason, the social media phenomenon has been clouded by controversy in Lebanon as the country's justice minister called that those burning the flag be prosecuted.
"This morning, some people burnt the flag of ISIS in Sassine Square and their symbol reads: 'No God but Allah and Mohammad the prophet of Allah,' which is the cornerstone of Islam," the Daily Star reported Lebanese justice minister Ashraf Rifi as saying.
"This symbol has nothing to do with ISIS and its terrorist approach," he added.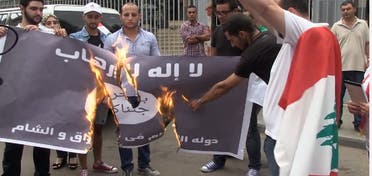 The first incident was reported to have taken place in Lebanon's Sassine Square following the alleged killing of a Lebanese soldier, Ali al-Sayyed, by ISIS militants.
Lebanese activists continued to post videos of burning the flag, but one group amended the activity to cater to the controversy that surrounded it.
In a video uploaded to YouTube on Sept. 1, a group of Lebanese protestors burned a flag that read: "Terrorism has no God" in place of the Islamic shahada used in the original ISIS banner
Rifi remarked that by prosecuting those who burn the flag, Lebanese law would protect religious symbols and Lebanon's national unity. As a result, the Sassine incident is now being investigated, the Daily Star said.