Momentous Lawrence of Arabia map to be auctioned in London
The map is believed to have been drawn by the famous British adventurer based on his journey to northern Arabia during World War I
A rough map sketched by Lawrence of Arabia is expected to fetch up to $162,277 when auctioned next month in London, a British daily reported Thursday.
The map is believed to have been drawn by the famous British adventurer and military commander Thomas Edward Lawrence based on his journey to northern Arabia during World War I.
Lawrence is said to have encouraged Arabian tribes to revolt against the Ottoman Empire.
It is believed that the sketch documents a crucial moment during the Arab revolt against the Ottomans, when Lawrence and Arab forces seized control of the Red Sea port of Aqaba in 1917.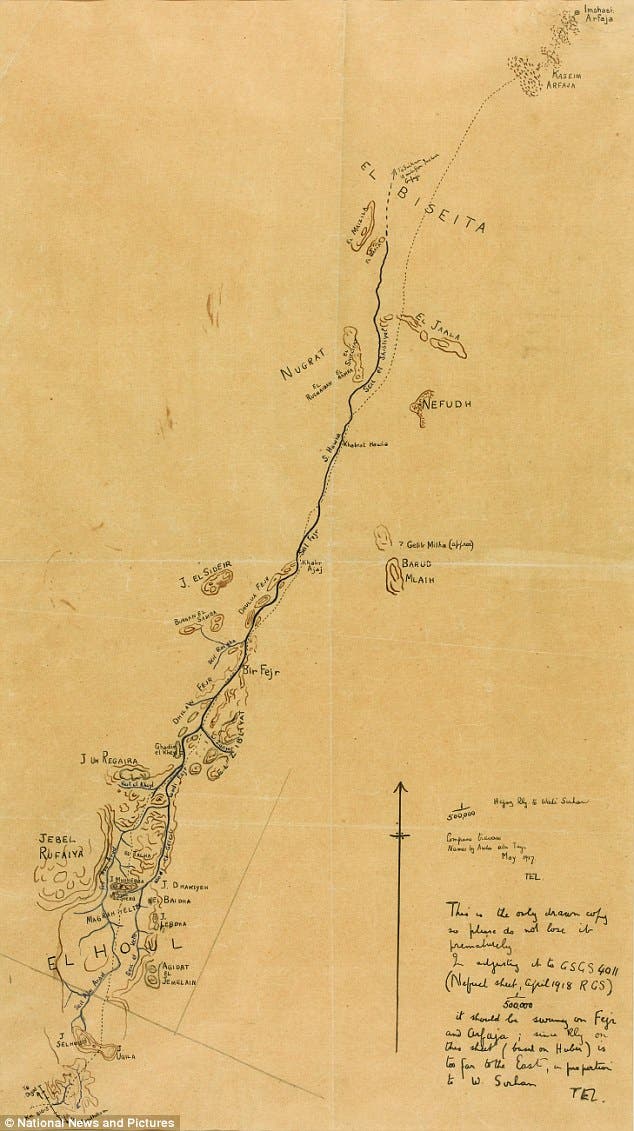 The map apparently shows the path in which he and the Arabs took after "leaving the port of al-Wejh, and then reaching the Hejaz railway," the Daily Mail reported.
A spokesman from Sotheby's in London, which is hosting the sale, said the map depicts "one of the most hazardous expeditions" by Lawrence in Arabia.
"On May 19th they embarked on the next stage of their trek into the barren lands toward Wadi Sirhan - the historic route that is recorded in this map.
"Lasting five days until the 24th May 1917, this journey would prove to be one of the most hazardous expeditions Lawrence ever undertook in Arabia," the spokesman said.
The map will be listed on Nov. 4 at Sotheby's Travel, Atlases, Maps and Natural History auction.