UK shop owner forced to deny links with ISIS terror group
A UK-based shop called "ISIS" is facing a hate campaign
A UK-based shop called "ISIS" is facing a hate campaign after people incorrectly linked the four letters to the terrorist Islamic State of Iraq and Syria, the Daily Mail reported Thursday.
Jill Campbell, who has owned the ISIS Boutique in England for seven years, named the outlet after the Egyptian Goddess ISIS.
"I came up with the name because the river in Oxford is named locally as ISIS and it is also the Egyptian goddess of magic, mystique, beauty and femininity which is everything the shop is all about," Campbell said.
In reaction to online threats, Campbell says she was forced to issue a statement to clarify that she has no links with the extremist group, the website reported.
"I can't believe I have to do this, but I want to make it clear I do not in any way, nor does this business, have any affiliation with, or support for, this vile terrorist group in the Middle East," she said.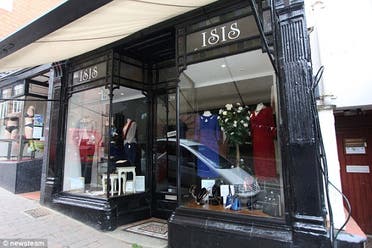 Campbell received various online threats and was asked to change the name of the shop, the newspaper reported.
"There was a particularly nasty comment on our Facebook page from someone who said we would get a letter bomb in the shop if we didn't change our name," Campbell said.
"Another person posted 'Terrorism comes to Malvern' alongside a picture of the front of our shop," she said.
"I overheard another couple talking about the name last weekend when the woman said to her partner 'look that shop's called ISIS' and he said 'they're the ones who have been beheading everybody," she added.