Facebook page of dead U.S. comedienne Joan Rivers endorses iPhone 6
The posts appeared to show Rivers describing iPhone 6 as a "great product"
Facebook followers of late American comedienne Joan Rivers were left surprised after posts about the newly released iPhone 6 appeared on her account on Friday morning.
The posts appeared to show Rivers, who died from a cardiac arrest earlier this month, describing Apple's hotly-awaited smartphone as a "great product."
It was later discovered that the messages were "sponsored scheduled posts" that would appear on her Facebook and Instagram accounts, the Guardian reported.
However, the posts were "quickly taken down," the newspaper added.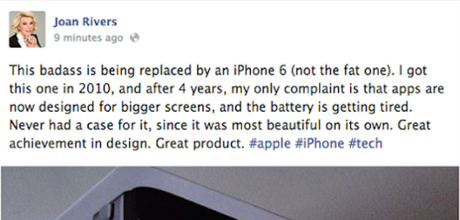 With a career spanning five decades, Rivers was known for her work in stand-up comedy, authorship, talk-show hosting and appearances on reality TV.
Rivers' cause of death remains unknown, but investigators believe that her vocal chords began to swell during a biopsy undertaken shortly before her death, depriving oxygen from reaching her lungs, and subsequently leading to a cardiac arrest.