Fish with 'human teeth' caught in Russia
One expert was baffled at the specimen, while another claimed it was a herbivorous piranha
An angler from the northern Russian city of Arkhangelsk recently caught a bizarre fish with a human-like jaw, online news outlet Pravda reported.
"I took it in my hands and smelled it," said the 50-year-old fisherman, Alexander Korobov, describing his catch. "It seemed to be fresh. I opened the gills - they were red. Yet, the mouth did not look like the mouth of a bream. I opened its mouth and was horrified to see human-like teeth in there. I got scared a bit."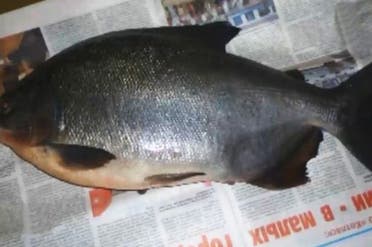 While Korobov and his friends were shocked at the discovery, experts at a local fishery department were equally baffled at the specimen.
"The fish looks like a bream, but the scales of it and the presence of adipose fin makes it look like salmon. Yet, salmon can not be the size of bream. The teeth of the fish looked like human. This fish is not from our region," said Andrey Rumyantsev, senior inspector of the Department of State Control and Protection of Water Resources of the Arkhangelsk region.
Deepening mystery
Korobov then contacted the Institute of Fisheries and Oceanography, where an expert claimed the fish was a herbivorous piranha, and is not native to the Northern Dvina River where it was caught.
"We had to do an autopsy and carry out a series of examinations to determine the species and an explanation for the teeth," Gennady Dvorykankin said. "We are convinced it is a member of the Piranha family, and that it is a herbivore piranha, not one of the meat eating ones you see in films."
"It is very unlikely that it made its way from its natural tropical waters to our Arctic and then into the river so we can only assume it was dumped by an owner of exotic fish," he added.
Some news outlets reported that the fish may be a pacu, a tropical South American fish related to the piranha.