The Kardashian wannabe trolling for Assad
Maram Susli believes U.S.-led airstrike against ISIS are illusions, ISIS beheading of journalists fake and the deadly Ebola virus a U.S. bioweapon
Do you have good looks? Are you a follower of current international affairs? Do you have access to the Internet? And do you have something – anything – to say?
If Syrian regime fangirl Maram Susli - aka the "Syrian Girl," or "Mimi al-Laham," or the "Partisan Girl;" she goes by several handles – could make it to the Internet's hall of fame, you definitely could too.
A supporter of Syrian president Bashar al-Assad – though she described herself to the Mail Online as a patriot "dedicated to the truth" – Susli is never embarrassed to express her conspiracy-oriented views to the virtual public.
Susli's interests, and therefore theories, vary: She believes U.S.-led airstrikes against the Islamic State of Iraq and Syria (ISIS) are mere illusions; taped beheadings of foreign journalists by ISIS militants are fake, the ongoing deadly Ebola outbreak in West Africa the result of a U.S.-manufactured military bioweapon, 9/11 was an "inside job," among others.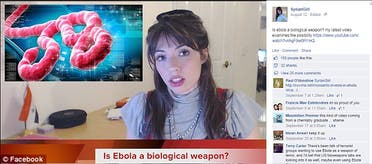 Susli also argues that Syria's chemical weapons are the country's "only hope" in winning the war against the Syrian rebels seeking to topple Assad, is a fan of the militant Shiite group Hezbollah, and is proud to say she is in touch with the Syrian Electronic Army, the pro-Assad hacker group.
Maram Susli's 'kardashian-esque' looks and unconventional insights into current affairs have nonetheless turned her into an Internet sensation, with more than 2.5 million YouTube views.
Like many others, Susli took to YouTube and social media outlets in 2011 to announce where she stands from the polarizing Syrian uprising.
Syria's civil war broke out in early 2011 after Assad's brutal military crackdown against protesters seeking reform and then his ouster. The peaceful protest soon turned into armed resistance against regime forces which recruited the help of Hezbollah and other Iranian-backed groups.
The blogger quickly gained a large following among like-minded folks on social media: Assad supporters and fervent conspiracy theorists such as American radio host Alex Jones.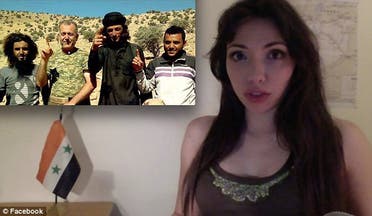 Videos highlighting her support for Assad include documentaries she has posted titled "Exposed: The 'Assad backs Al-Qaeda' Myth" and "If Syria Disarms Chemical Weapons We Lose The War."
Maram Susli, who was born in Damascus in 1987, said she is simply a patriot "dedicated to the truth," reported the Daily Mail on Wednesday.
"People are dying, and I have a duty as a human being and as someone of Syrian origin to expose the truth about why," Susli said.
"A duty to give a voice to those Syrians who have not been heard, who have rejected the instability caused by the U.S. support of the extremist rebels," she said.
One doesn't need to be pro-government to support their military against an external terror threat, she added.
She wants to see Syria's "army strong" and its "borders solid," she said in one of her videos.
However, some of her followers don't seem to take her seriously and accuse her of seeking "Kim Kardashian fame," the website reported.