Viral photo shows African migrants gazing at white-clad golfers
The photo was snapped by José Palazón, of the migrant rights group Pro.De on Wednesday
A photograph of two sets of people with radically different realities, shot mere meters apart, has gone viral on social media.
The photo was snapped by José Palazón, of the migrant rights group Pro.De on Wednesday. The picture shows a dozen or so African migrants caught on a wire fence that marks the border between Morocco and Spain's north African enclave of Melilla.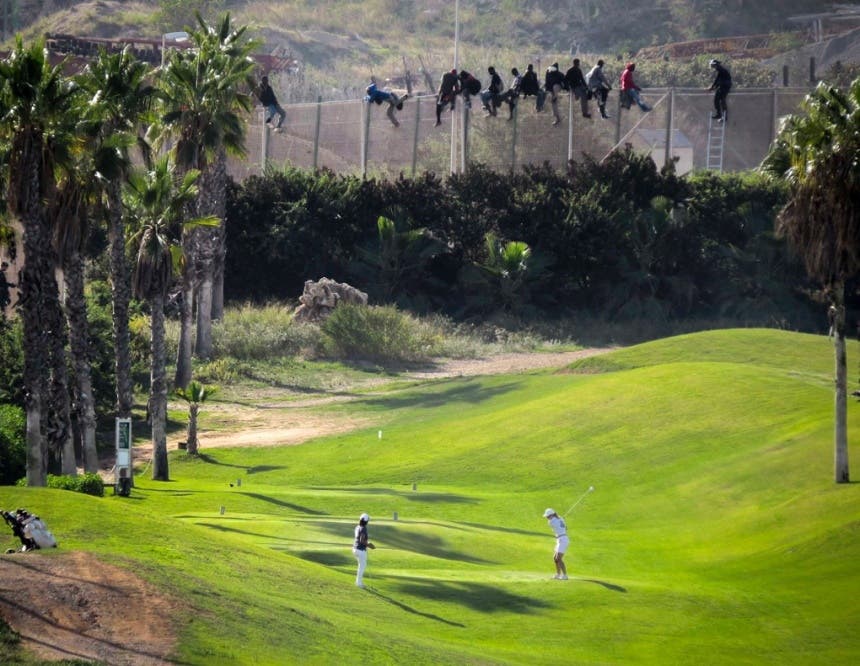 The migrants were photographed overlooking white-clad golfers teeing off on a luscious course.
"It seemed like a good moment to take a photo that was a bit more symbolic. The photo reflects the situation really well – the differences that exist here and all the ugliness that is happening here," Palazón told El País newspaper.
Hundreds of African migrants hurling stones stormed the border fence in what was described as a "violent" assault on Wednesday, authorities said, the latest in a series of such attempts.
A local Spanish government spokeswoman said there was a "massive assault" in the early hours at one point of a six-meter fence, Agence France-Presse reported.
Those who made it into Melilla were taken to an open reception center that is currently home to about 750 immigrants, she said.
Melilla, home to around 80,000 people, has one of the European Union's two land borders with Africa, along with the other Spanish enclave of Ceuta to the west.
Spanish authorities have reported a surge in attempts to scale the fence over recent months while many migrants camp in the wild nearby on the Moroccan side.
(With AFP)