Vogue India stands against rape, abuse with 'Boys don't cry' video
The hard-hitting film features an image of a man holding back tears while he physically abuses a woman
A new short film, released this week, entitled #StartWithTheBoys, aims to challenge the premises of "Boys don't cry." The new video, directed by Bollywood filmmaker Vinil Mathew and starring Madhuri Dixit, is part of the #VogueEmpower month-long social awareness campaign by Vogue India to raise a national awareness that women's empowerment should not be fought for by women alone.
The hard-hitting film features an endless cycle of parents scolding their sons, from toddlers through adolescence, for crying. It then powerfully culminates in an image of a man holding back tears. The camera shot then pans out to unveil that he is converting his emotions into violence by physically abusing his already battered female partner.
At the end of the video, a woman says: "We have taught our boys not to cry. It's time we teach them not to make girls cry,"
In a behind-the-scenes video, Alex Kuruvilla, managing director of Conde Nast India, responsible for publishing Vogue India, says that the short film was initially inspired by comments actress Susan Sarandon said during the Goa Film Festival: "If you want to make a change, start with the boys."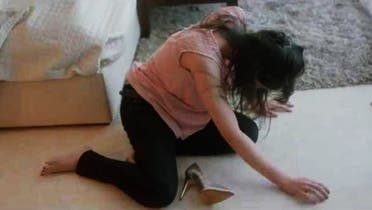 "The idea of the film is centered around the fundamental truth that women's empowerment is not about women alone, which is why I pledged to create a short film that communicates clearly the need to change the mindset of boys before they become men," Kuruvilla said in the video.
An article in Vogue India explains how parents render the female sex as inferior to young boys, a consequence to the common deployment of phrases like "Boys don't cry" and "stop crying like a girl."
"When we teach young boys at an early age to not do something 'like a girl' – the distinction that what a girl does is insignificant is imprinted in the young boy's mind. Growing up, when these boys don't see eye to eye with their partners they feel the need to enforce their views through aggression."
Throughout the month long campaign, other Indian filmmakers such as Homi Adajania and Vikas Bahl are also taking part in #VogueEmpower campaign to promote the cause. The film "Going Home," starring Bollywood actress Alia Butt has already had over two million hits since it was published on YouTube, earlier this month. Driven by the same approach of raising spotlight on women's empowerment, the film's director, Vikas Bahl, said he wanted the audience to "visualize a utopia for women, where, unlike today, mistrust and fear don't dictate actions and decisions."
As India, attempts to overcome its high-profile rape culture brought to worldwide attention through the brutal gang rape of a 23-year-old student on a New Delhi bus in 2012, such creative campaigns are ensuring that the urgency to achieve women's empowerment, in a society often viewed as the worst place to be a woman, is not forgotten. Vogue India and it's month long campaign has already enlisted the support of over 180 celebrities as well as members from the fashion industry.
"The whole idea is to engage with Vogue's circle of influencers and thought leaders to become our pledge-makers, our agents of change," says the Vogue India editor Priya Tanna. "We want them to mobilise people to think, talk and act in ways that highlight and draw attention to women's empowerment."