Ebola suits to ISIS garb: Halloween attire comes under fire
Ebola and domestic abuse, this year's inspiration for Halloween costumes could be slipping into bad taste
Terrorism, the spread of Ebola and domestic abuse, this year's inspiration for Halloween costumes could be slipping into bad taste and could even cause national security issues in the United States, according to experts.
Fox News highlighted one retailer, BrandsOnSale, which is selling various themed costumes this year. Choices include a faux Ebola hazmat suit, ready with a breathing mask and face shield.
"The deadly Ebola virus has landed in the United States and the crisis has reached new levels of domestic escalation. You are sure to be prepared if any outbreak happens at your Halloween party. This will literally be the most 'viral' costume of the year," reads the description on the website.
Although thousands have died as a result of the Ebola outbreak in West Africa, BrandsOnSale Chief Executive Jonathan Weeks defended the costume.
"People like to dress up as what's current," Weeks told FoxNews.com.
"There's people who get killed in plane crashes and there's pilot costumes and there's people who die as nurses and doctors and there's costume for that too," he said. "This is no different than any other EMT worker that is out there helping save lives."
"People are going to offend everyone this year. It's an offensive holiday," Weeks added. "If you don't like it, then don't go out and trick-or-treat."
However, Weeks added that some costumes crossed the line of what is socially accepted.
"There is a line you have to draw," Weeks said. "We never had an Osama Bin Laden costume. People in the past have dressed up as the Boston bombers and the Twin Towers, which I think is extremely distasteful."
Meanwhile, social media has also gone viral with photos of amateur, homemade, Ray Rice costumes, depicting the football star beating his wife. Rice was arrested in February for hitting his then- fiancée and current wife Janay Palmer in footage released by TMZ.
Instagram and Facebook posts show dressed-up men in a Rice jersey standing next to women with black eyes courtesy of make-up.
According to one commenter, though, this year's Halloween attire could fall from the realm of the distasteful into the downright dangerous.
Walid Phares spoke to Fox News on the slew of imagery on social media of people dressing up as ISIS militants for Halloween - fake knives, guns and all.
Phares called the trend "alarming" considering the recent Ottawa shooting in which a masked gunman killed a Canadian soldier.
One snap posted by user T.J ‏@Skinny215 shows a group of people dressed up to resemble militants with the caption, "Where's the Halloween parties... Isis will be there."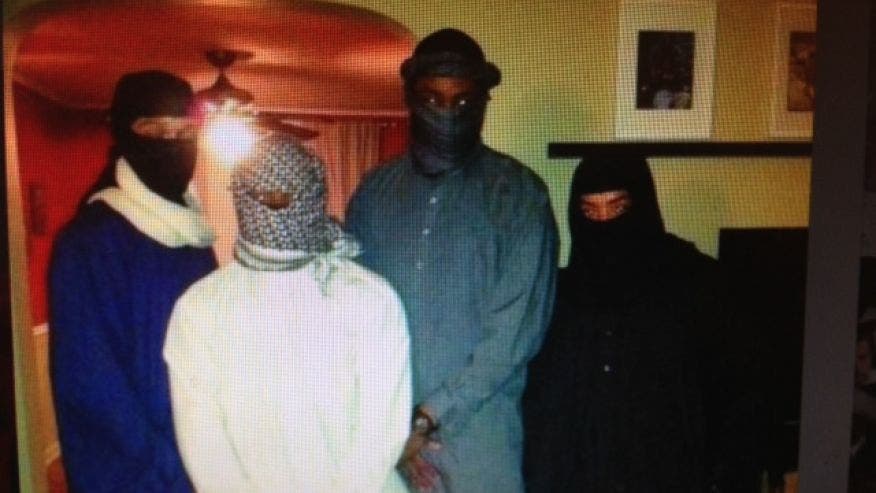 Phares shared his concern with Fox News: "With the increase of young persons planning on wearing ISIS-like uniforms and being masked for Halloween, there are some concerns which we, and law enforcement, need to be attentive to."
"It is all about one day or one night, and hopefully there won't be any incidents, but here are two scenarios that could be developed by jihadi terrorists for Halloween," he speculated. "One is that they would wear ISIS type clothing and mingle with the Halloween celebrants, mostly in public places, and perform violence and film it with devices. The videos produced would be extensively used by ISIS or jihadists for propaganda purposes. They would claim having hit the enemy at home, while wearing jihadi uniforms."