Lebanon police foil 'stuffed potato' drug smuggling attempt
Authorities foiled the 22-year-old's plan, in which he had squeezed hashish in incisions made in 16 potatoes
Using a number of potatoes cleared to enter a prison in Lebanon, a man attempted to hide a marijuana-like product in the starchy vegetable, Lebanese news website Naharnet reported.
Authorities foiled the 22-year-old's plan, in which he had squeezed hashish in incisions made in 16 potatoes that were meant for an inmate at the Tyre priosn.
"Palestinian national M. A., 22, was arrested after he tried to smuggle a quantity of hashish that was stuffed into 16 potatoes in a crafty manner," the Internal Security Forces said in a statement, according to Naharnet.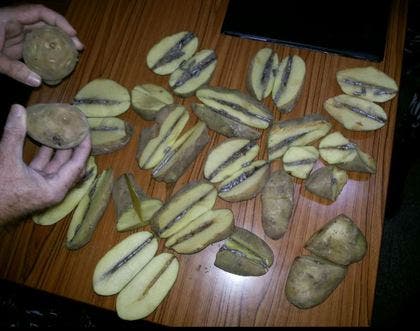 The potatoes were meant for a 33-year-old inmate who Naharnet reported was Palestinian.
Separately, authorities thwarted other bizarre attempts to smuggle illegal substance into Lebanese prisons earlier this year.
In October, prison security found hundreds of Benzhexol pills and hashish hidden in a pair of shoes Tripoli's al-Qobbeh prison.
Before that, guards at the Aley prison confiscated a package of hashish distributed and hidden in "21 pistachio shells."
While in Zahle prison, hopefuls tried to smuggle drugs in toothpaste tube, pastries, sandwiches and apricot, according to the Lebanese website.