Several Saudi restaurants slammed over 'no single women' signs
NSHR describes signs as illegal and says they should be removed immediately because they were put up at the request of their owners
The National Society for Human Rights (NSHR) has asked a number of restaurants to take down signs banning the entry of women who are unaccompanied by their male guardians, Al-Hayat daily reported.
In a statement, the NSHR described these signs as illegal and said they should be removed immediately because they were put up at the request of their owners, not the authorities.
The manager of a restaurant that had such a sign told the newspaper: "We put up these signs because we have seen numerous incidents of flirting taking place inside the restaurant.
"We'll only remove these signs when we make sure such incidents never happen again on our premises because such type of behavior negatively impacts our business."
Many Saudis have lashed back at the restaurants on the social media websites, describing the signs as degrading to women and a flagrant example of discrimination.
One of them tweeted that these signs used to exist but they had disappeared a long time ago.
Seeing them again is a step backward and an attempt to turn people away from restaurants, said the tweeter.
NSHR spokesman Khalid Al-Fakhri said restaurants do not have the right to require single women to bring male guardians along with them when they want to eat out.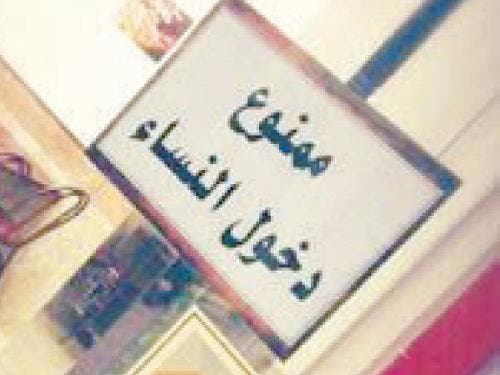 "These signs are against the law and reflect the personal opinions of the restaurant owners," Fakhri said. Restaurants should come up with alternative solutions if its customers are behaving inappropriately, he said.
Lama Sulaiman, citizen, said restaurants and cafes are the two main recreational places for women in the country.
"If they're going to ban us from entering restaurants, where are we supposed to go?" she said. In her opinion, customers should boycott any restaurant that display such signs.
This article was first published in the Saudi Gazette on Sunday, Nov. 23, 2014.