Single man finally finds woman with ex's name to go on world trip
Axani, 28, made headlines early last month for offering a free around-the-world plane to ticket to anyone named Elizabeth Gallagher
It is not that hard to be replaced – quite literally – nowadays. At least, that is what a Canadian ex-girlfriend has learned this week.
Jordan Axani has finally found the right Elizabeth Gallagher.
Axani, 28, made headlines early last month for offering a free around-the-world plane to ticket to anyone named Elizabeth Gallagher.
Axani and his former girlfriend, Elizabeth Gallagher, booked a three-trip around the world back in May. But the couple split up, leaving Axani with non-transferable, non-refundable plane tickets.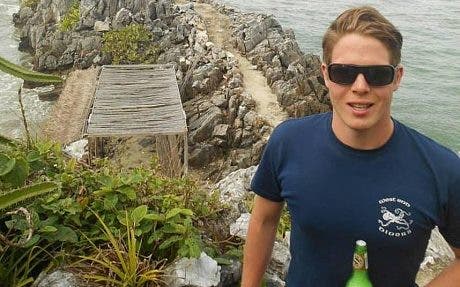 Rather than traveling the world solo, or losing his investment, Axani took to news-aggregator Reddit, and wrote: "Are you named Elizabeth Gallagher (and Canadian)? Want a free plane ticket around the world?"
"I am still planning on going on the trip and she is not (naturally)," he wrote, referring to his ex-girlfriend. "And because I hate the idea of a ticket around the world going to waste, I am looking for a Canadian named Elizabeth Gallagher who could use the ticket."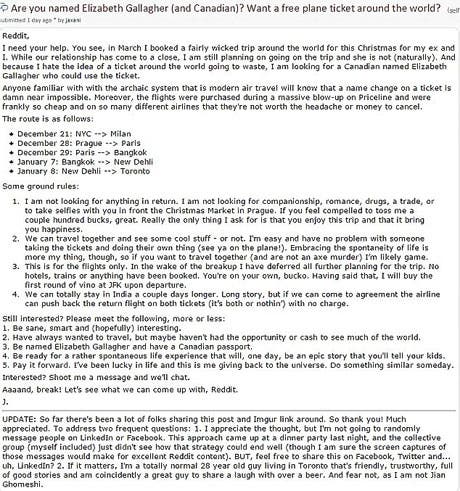 Predictably, his inbox was bombarded with thousands of emails, including 18 from Elizabeth Gallaghers with Canadian passports – and from hundred others who wanted to change their names.
But one Elizabeth Quinn Gallagher, a part-time social work student, made it to the finale and was chosen to accompany Axani during the three-week trip.
"It definitely did seem a little bit creepy at the beginning but now that I talked to him it's less creepy and more awesome," Gallagher told Associated Press.
But Gallagher has a boyfriend.
"He understands that I've always wanted to travel so while he's not happy I'm taking off for nearly a month at Christmas with a random guy, he's smiling through it."
The "wild trip" is due to take off next week from New York heading to Paris, then Milan, Prague, New Delhi and Bangkok.
And since their story went viral, Marriot International offered to put the pair in separate hotel rooms.
Meanwhile, Axani and his brother founded a charity in California called "A Ticket Forward" that aims to help "underprivileged and at-risk" people to travel through crowd funding. Axani was inspired by all the emails he received from people ready to do anything to travel – including from an 8-year-old boy who said he was going blind and wanted to see the world before that happens.