Taliban leader lists 'jihad' as skill on LinkedIn
Ehsanullah Ehsan, spokesman for Taliban splinter group TTP Jammat-ul-Ahrar, was allegedly using the profile on the networking site as a recruitment tool
A senior Taliban commander – wanted over the assassination attempt on girl's education activist Malala Yousafzai – purportedly kept an account of professional networking site LinkedIn, and listed "jihad" as being among his skills.
Before the networking site pulled the profile after British daily The Telegraph reported on the account's existence on Sunday, Ehsanullah Ehsan, spokesman for Taliban splinter group TTP Jammat-ul-Ahrar, was allegedly using the profile as a recruitment tool.
On the profile, Ehsan described himself as "self-employed" and lists his skills as "jihad and journalism" and also gave details of his school, employment history and language skills.
Pakistani authorities placed a $1 million bounty on his head after claimed that the Taliban were responsible for the attempted killing of Yousafzai in 2012.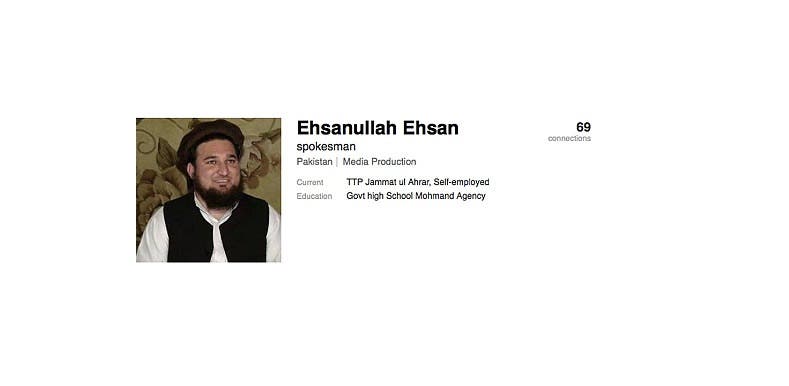 However, a spokesman for LinkedIn - which boasts of having over 300 million users - told The Telegraph that the account may be fake, due to a lack of "Taliban recruiting messages."
The spokesman added: "[I] can't say for certain that it is someone else … But I can say that our security team has a high degree of confidence that it is a fake account, which is reason enough to restrict it.
The revelation comes soon after media reports that internet firms often refuse to pass on potentially critical evidence to government authorities on serious criminals because they do not fit their standards for causing enough harm.