'Malia Obama' mystery image sparks online stir
The photo purports to show 16-year-old Malia wearing a tee-shirt printed with the name of a Brooklyn rap group
A mysterious online image of the President Barack Obama's daughter, Malia, has gone viral on Wednesday.
It remains officially unknown who took the picture of the high school student -- or someone who looks very much like her.
After years of careful White House control over her few public appearances, the image puports to show the 16-year-old Malia wearing a tee-shirt printed with the name of the Brooklyn rap group Pro Era.

Malia has her mouth agape, looking directly into the camera as she arranges her ponytail.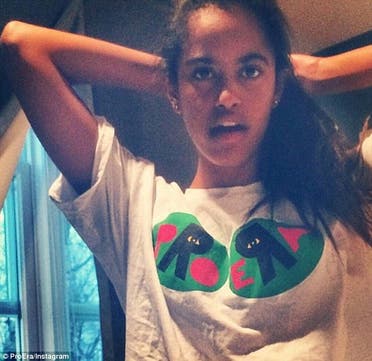 It initially surfaced on Instagram on Tuesday night, and was used by Pro Era to promote their merchandise.
The Brooklyn hip hop crew was contacted by Gawker to find out how they got the image.
A representative for rapper Joes Bada$$ told the website they'd received the image from "a mutual friend of Malia and the Pro Era member."
And while there are still questions over whether the girl in the photo is in fact Malia, some reports suggest there is reason to believe it is her.
"For starters, the girl in the photograph looks so remarkably like the President's daughter that she even has the same double-pierced ears. Secondly, it's reasonable to think Malia actually likes Pro Era – she recently attended Lollapalooza, and left after a performance from Chance the rapper," according to an online report.
The White House is yet to comment on the photo.
"The viral dissemination of the image underscored the perils of life in the White House fishbowl -- particularly when its occupants are trying to raise children there -- in the age of the Internet and social media," stated Agence France-Presse.