Egyptians aim to capture biggest selfie - ever
A YouTube video - which fast went viral - set Egyptians the challenge of taking the 'Biggest Selfie in Egypt' under the hashtag of the same name
There's nothing new about the selfie, but students in Egypt have been taking it a massive leap further, to prove that the once widely held view that all good things come in small packages is now long gone.

Pull out a flip phone these days and you're likely to be exposed to untold amounts of ridicule – and portable TVs? Well do they even exist anymore?

Last year U.S. TV favorite Ellen DeGeneres hit the headlines with her Oscar night selfie, featuring an array of top-ranking celebrities. But even she failed to reach the scale of the images recently hitting social media.

A YouTube video - which fast went viral - set Egyptians the challenge of taking the 'Biggest Selfie in Egypt' under the hashtag of the same name.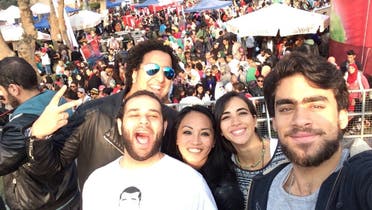 The craze caught on after a marketing campaign launched by mobile phone giant Samsung, which initiated the challenge to see who in Egypt could create the biggest selfie. The competition urges people to 'go big, or go home'.

The results so far have shown crowds in shopping malls, stadiums and concerts – but the craze seems to be catching on and it looks likely that more will appear in the not too distant future.