Jordan rethinks orange uniforms after ISIS killings
After the murder of Moaz al-Kasasbeh, the orange uniforms now carry strong associations with the militant group
Municipal authorities of the Jordanian capital Amman are mulling changing their worker's orange-colored uniforms due to the association with Islamic State of Iraq and Syria (ISIS) hostage-killing videos, English-language daily the Jordan Times reported this week.
For many in Jordan, the orange uniforms now carry strong associations with the militant group, after a grisly ISIS video showed orange jumpsuit-clad captured Jordanian fighter pilot Moaz al-Kasasbeh being burned to death in a metal cage was released online.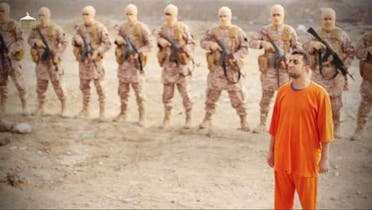 After Moaz's brother Jawad Kasasbeh began calling for the bright uniform – worn by some 4,600 sanitation workers – to be changed, a municipality official said his plea was being considered.
"The Amman mayor likes the idea and there is a possibility we will do this," the Greater Amman Municipality official, who declined to be named, told The Jordan Times.
The usage of orange jumpsuits on hostages – including captured foreign journalists and aid workers – have become something of a trademark of the militant group, which regularly releases slickly-produced videos of its latest killings.