What's new copycat? Poking around Dubai's artful imitators
Given litigation over intellectual property rights, imitation can be a frustrating form of flattery
Imitation, it is said, is the sincerest form of flattery. In the United Arab Emirates, Abu Dhabi will soon boast its own Louvre and Guggenheim art museums, while Dubai will have an Eiffel Tower, Taj Mahal, Egyptian pyramids and the Great Wall of China.
However, given litigation over intellectual property rights, imitation can also be a frustrating form of flattery.
Shaheen Najeeb opened his men and children's salon Facelook in Dubai three years ago. "The idea was basically to have a name that should match with salon stuff."
However, shortly after opening - with branding in the style of Facebook - Najeeb started to get requests from representatives of the world's 22nd largest company to change his branding.
Despite being registered under Dubai law, Najeeb decided to change his company's logo about six months ago because of the constant harassment.
Najeeb says he did not like being portrayed as the small local company up against one of the titans of the tech industry as he has plans to expand one day, so it made sense for him to carve out his own identity.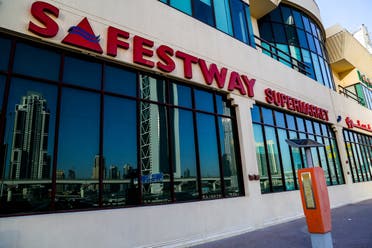 The original logo "had a good impact, but it had a negative impact as well. It was a 50-50 thing."
Najeeb says since updating the logo, Facelook has actually had more customers because initially people "thought it was something like a software company."
At the other end of town, many customers are tempted by the golden arches of a popular spacious diner.
However, it is not McDonald's, but McDavid's, complete with the tagline "You'll simply love it." Instead of Big Macs, the three branches offer Filipino dishes.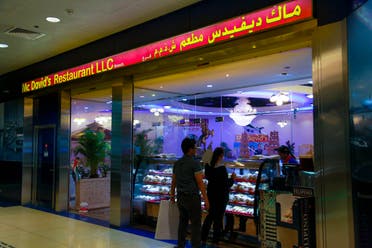 Along Sheikh Zayed Road is something of a Dubai institution that has been serving loyal customers since 1977: Toys & Us.
With rows of model aeroplane and car kits, sales assistant Kenneth Bautista says it is more of a hobbyist shop than a toy store, though "sometimes we have phone calls" from people expecting Toys 'R' Us.
The store's name can cause confusion, he says, but the logo is "very original" and does not resemble that of their similarly-named counterpart.
A few paces down Sheikh Zayed Road is Safestway supermarket. This Dubai version of the American Safeway supermarket chain has done little to disguise from where it has drawn inspiration, written in almost identical font.
Next door is a store owned by one of the many fried chicken companies that have taken on a variant of the KFC logo.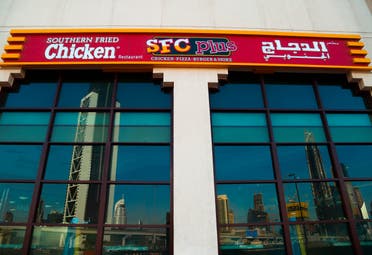 Like many countries, the UAE has a host of restaurants that have replaced Kentucky with words such as Chicking, French or Crown, usually emblazoned in the same recognizable red and white. This particular store is SFC: Southern Fried Chicken.
Other copycats in the UAE include the Hilton restaurant and SandwichWay, a twist on Subway.
Legality
While these copycats have generally varied their logos enough to avoid falling foul of intellectual property laws, one recent example stands to the contrary.
Old Dubai may be crawling with counterfeit goods hawked by small vendors, but in 2012 one Dubai resident took it a step further by opening a Primark, which looked identical to the British original aside from the adjunct Arabic wording.
The Daily Mail reported that Iranian expatriate Yaqoub Hatami and his four partners set up the shop, but claimed to have never encountered the original. Unsurprisingly, legal action was threatened and the store disappeared.
Hassan Elhais, senior partner at Dubai's Al Rowaad Advocates and Legal Consultants, says this case represents one end of the scale, and whether trademark similarities will fall foul of the law turns on how misleading they are to customers.
"Trademarks have two kinds of protection, one for the local trademark and one for the international, [and it is invoked when another company] misleads customers."
In the Primark example, there was a clear breach of trademark as the wording and design of the store's logo were identical.
Even when an international company is not registered under UAE law, the law will recognize overseas trademarks "with an international reputation that goes beyond the country of origin to other countries," according to Article 4 of Law 37 1992, he says.
It is a different situation regarding trademark similarity, but Article 10 of the same law says it is illegal to register a trademark to a similar one "if such usage would create a misleading impression to the customer which affects the interest of the first one."
What the law judges as similar differs from case to case, though it would take into account whether there is the same colour, name or lettering, Elhais says.
"I have many cases like this. If the similarity will mislead customers… it has an effect on the business and an effect on the customer who gets improper service.
"It can be similar letters, a similar shape that misleads the customers. The considered factor is misleading the customers."