Privately-owned submarines to test the waters in the GCC
The underwater vehicles are built in Holland and are expected to be sold for an average price of $1.67 million
The Middle East's leading leisure yachting enterprise announced on Tuesday the introduction of a new enterprise for all water lovers at the Dubai International Boat Show.
ART MARINE indicated that it would start commercializing Sub-Sea Limousines, which would allow buyers to explore the sea from under the waterline.
"We plan to start the commercialization in the Middle East of what we called the Sub-Sea Limousines, or submarines, which will come with the highest standards anyone can dream of," Bruno Meier, the head of marina management at ART MARINE, told Al Arabiya News.
He went on to say, "all submarines are mind-blowing. They are made with thick, spherical glass and some of the luxury vessels will give the opportunity to passengers to dive to 1,000 meters underwater."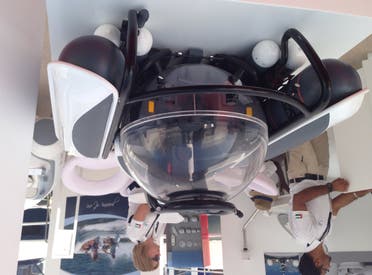 The underwater vehicles are built in Holland and are expected to be sold for an average price of 1.5 million euros ($1.67 million).
Meier also said that the Dutch company will be building different versions of the vessel including two, three and five-seater models.
Different purposes
Speaking about the new product, Meier differentiated two types of usage; leisure and professional.
"Some buyers who own mega-yachts will use it like a toy just like jet-skis," he said, "in that case submarines will be used for leisure and fun.
"But, we have other buyers who will use the new engine for more serious purposes such as health rescue operations or and under-water maintenance."
During the interview, which took part on the occasion of the 23rd edition of the Dubai International Boat Show, Meier stressed that all "security precautions needed" were taken to ensure the safety of the passengers.
"It is very safe," he claimed, "nothing can really happen and if you would get stuck without air, without power or without anything, there is an option that allows the submarine to move up to the surface automatically."
Attracting attention
Meier also suggested that the devices, which are first going to be introduced in the GCC, are already attracting the attention of some wealthy families in the area.
"We already held talks with affluent families in Bahrain, Abu Dhabi and Qatar regarding the engine," Meier stated, adding that he hopes he will be able to sell a unit or two shortly.
"Traditionally the wealthy families who buy mega-yachts are interested in these types of products," he said, speaking about the type of clientele ART MARINE was expecting to do business with.
As a strategy to attract buyers, ART MARINE CEO Gregor Stinner told Al Arabiya News that the company will need to demonstrate what a submarine does and for what purpose it can be used.
He also said that he believes that the leisure yachting enterprise will find the adequate clientele for submarines in the region.