Al-Qaeda makes itself at home in Yemen palace
Images emerging online show Al-Qaeda commander sitting in the governor's palace pretending to be on the telephone
Pictures showing an alleged Al-Qaeda commander relaxing inside a palace in Yemen days after he was liberated by terrorists from prison have emerged online.
In one of the images, Khalid Saeed Batarfi, a senior leader with the Al-Qaeda in the Arabian Peninsula (AQAP), appears sitting in the governor's palace in the city of Mukalla, pretending to be on the telephone and holding a weapon.
In another photograph, Batarfi is seen standing on a Yemeni flag in the abandoned building.
Al Arabiya News could not independently verify the images.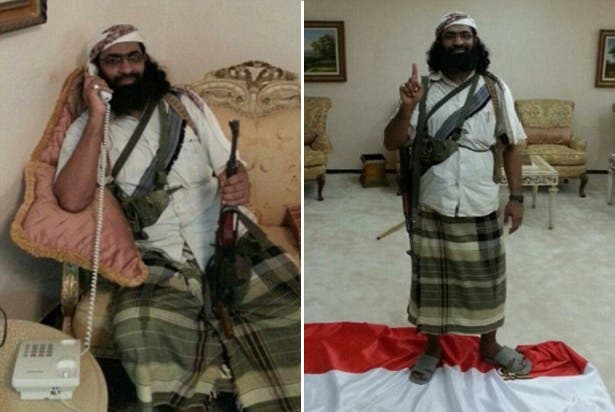 Batarfi, who was jailed by Yemeni officials, was reportedly freed Thursday along with 300 other inmates from the Central Prison of Mukalla when members of AQAP stormed the building with machine guns and rocket launchers.
After taking over the prison, the group reportedly took to twitter and wrote: "All the brothers have been liberated, including Sheikh Batarfi who is now amongst his brothers, all praise to Allah."
The commander is most known for his prominent role in a 2011-2012 battle with government troops during which extremists seized large parts of the south and east of Yemen.