Just don't do it: ISIS bans Nike sports brand
ISIS has circulated a leaflet banning Nike products because the brand name sounds like the Arabic word for sexual intercourse
After outlawing cigarettes, alcohol, musical instruments, skinny jeans, and even pigeon-breeding, Islamic State of Iraq and Syria (ISIS) militants have now decreed their latest ban: products from U.S. sports apparel firm Nike.
According to a leaflet distributed in ISIS' de-facto capital of Raqqa, the prohibition of the brand, popular for its shoes, tracksuits and shirts, "Nike" sounds like an Arabic slang word for sexual intercourse, UK paper The Daily Mail reported earlier this week.
"O youth, beware of foreign words and symbols of infidels on our clothes," the leaflet warned, adding that the name of the sport brand was identical to the name of the Greek goddess of victory, which – like all other belief systems outside its own – ISIS regards as pagan.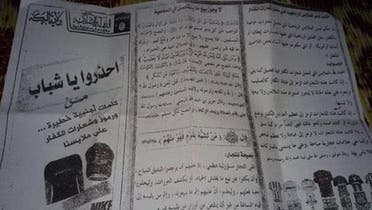 Those daring enough to flout the rule will face punishments ranging from a small fine to whipping and all the way to imprisonment to those buying or selling Nike products, according to the leaflet.
The ban comes despite ISIS's most famous commanders - including the Iraqi leader Abu Waheeb – are often seen wearing Western sportswear brands.
To clear confusion the sports giant chairman confirmed last year that Nike is pronounced 'Nikey,' making it not so much of a 'lewd'-sounding word in Arabic.