Survival stories emerge from the rubble in quake-hit Nepal
Hard-hitting images emerged this week of a four month-old baby, covered in dust, being pulled out of the rubble
While the Nepalese continue to deal with the aftermath of what has been described as the deadliest earthquake to hit the Himalayan nation since 1934, stories of survival continue to emerge from the rubble.
Hard-hitting images emerged this week of a four month-old baby, covered in dust, being pulled out of the rubble after Nepalese soldiers almost missed him if it wasn't for a faint cry, local media reported.
Nepalese daily Kathmandu Today published the images of the infant, believed to have been pulled out 22 hours after the quake, the Independent reported.
CNN identified the baby as Sonit Awal and he is reportedly in stable condition. His parents, the Independent reported, were believed to have raised the alarm when they realized their son was trapped and were pictured waiting as the army worked to free their son.
The death toll in Nepal rose to nearly 5,500, according to a Thursday tally by disaster management officials.
On Thursday, rescuers managed to pull out a 15-year-old boy from a building that collapsed five days ago.
"A 15-year-old boy has been rescued from the rubble of a lodge called Hilton Guesthouse," police spokesman Kamal Singh Bam told reporters.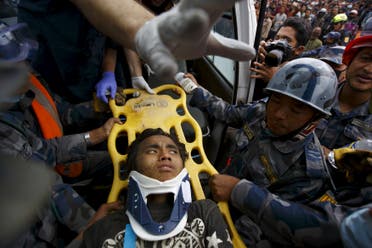 Waiting crowds roared and cheered as the boy was carried out in a stretcher. His face was covered in dust, and medics had put an IV drop into his arm. A blue brace had been placed around his neck. He appeared stunned, and his eyes blinked in the sunlight.
A USAID team had been working at the scene overnight to try to free the boy.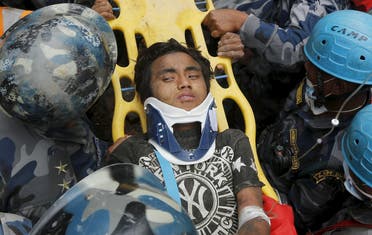 Team leader Andrew Olvera said before the rescue that the boy was not very deep, but he was trapped between two collapsed floors.
Wednesday's rescue efforts saw a man being pulled from another collapsed building where he was stuck for more than 82 hours, the Associated Press reported.
He said he had given up all hope of rescue but he kept banging on the rubble under which he was stuck until rescuers heard his calls for help.
A total of 5,489 people are now known to have died in the 7.8-magnitude quake, according to an update from the National Emergency Operation Centre, while more than 100 others were killed in neighboring India and China.