Here's how the White House catered to Gulf royal taste buds
As the Gulf's royals headed to Camp David to meet with Obama, they did so in style
The Gulf region is well known for its luxury vehicles and exquisite dining.
So there should have been no surprise as members of the Gulf's ruling elite arrived at Camp David to meet with U.S. President Barack Obama in a fleet of cars that would make Hollywood green with envy.
The rulers, deputies and crown princes have traveled to meet with Obama to discuss a number of issues, not least the contentious issue of relations with Iran – something the GCC nations have a vested interest in.
But having flown half way around the world for this historic meeting, it is only reasonable that their highnesses got to travel in comfort once their planes had touched down on U.S. soil.
One-by-one the cars arrived: The Saudi Arabian contingent led by Crown Prince Mohammed bin Nayef bin Abdulaziz Al Saud was there a day early with his delegation in a black stretch Mercedes Benz S-Class limo.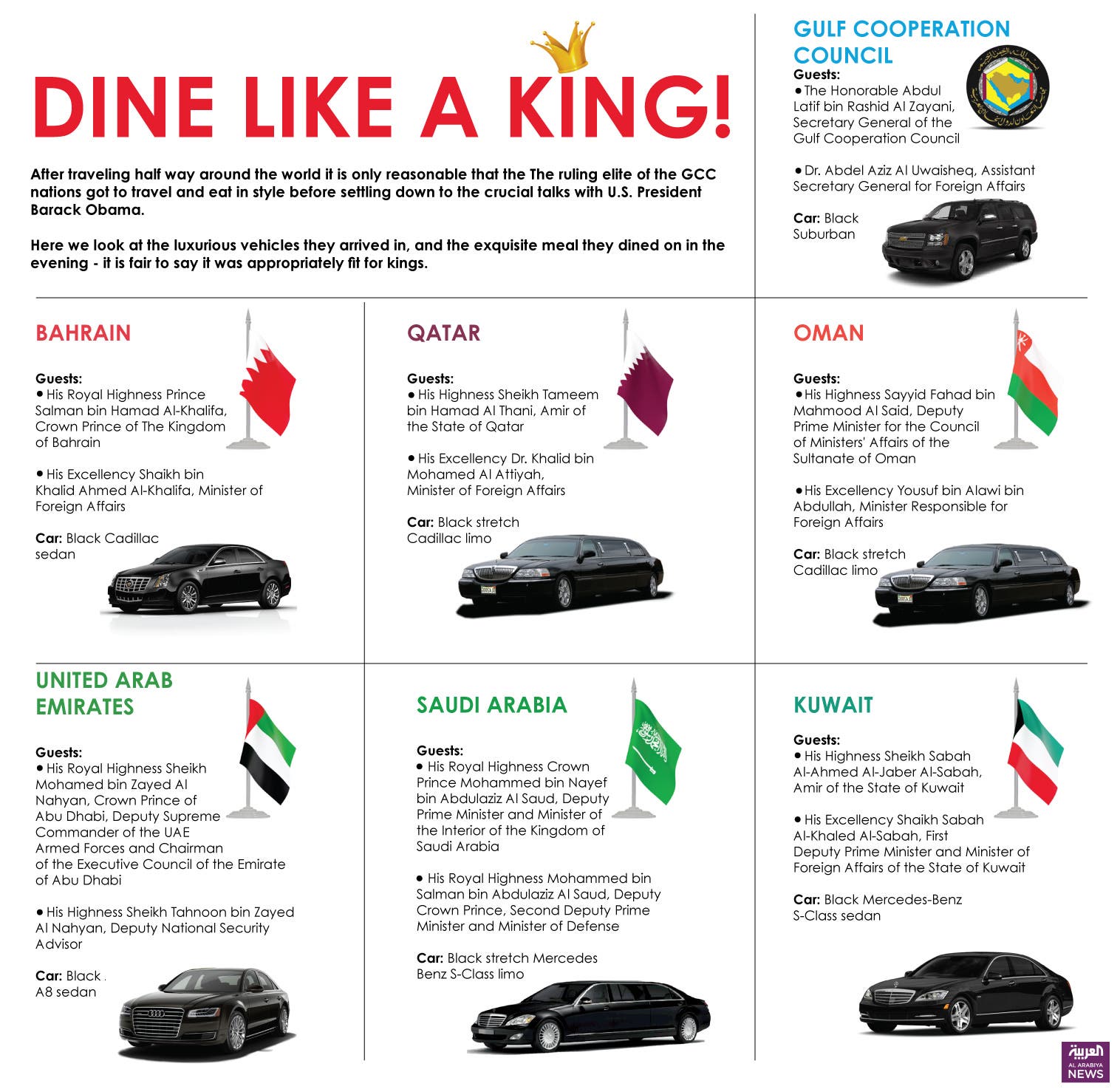 On Wednesday a black Suburban carrying representatives from the Gulf Cooperation Council (GCC; a black Cadillac sedan delivered the Bahraini delegation; from an Audi A8 sedan – which is of course black – came the Crown Prince of Abu Dhabi - Sheikh Mohamed bin Zayed Al Nahyan and other UAE representatives; while the Qatari party - including Sheikh Tameem bin Hamad Al Thani, the emir of Qatar – pulled up in a black stretch Cadillac limo – as did the Omani contingent that included Sayyid Fahad bin Mahmood Al Said, Deputy Prime Minister for the Council of Ministers' Affairs of the Sultanate of Oman; finally Sheikh Sabah Al-Ahmed Al-Jaber Al-Sabah – the emir of Kuwait rolled up in a black Mercedes-Benz S-Class sedan.
And that's just how they arrived, they of course had to eat, which is why a special menu was prepared for the occassion by the chefs at The White House. Now, whether or not the menu matches the standards these Arab Royals are used to back home, is a different question.
With a starter of heirloom tomatoes, pickled cucumbers, summer peppers and a Feta vinaigrette; their highnesses were set up ready for their lemon-scented local lamb, citrus fondue, French beans, chantrelles and peanut potatoes.
To finish off the evening's meal the royals will tantilise their taste buds with a delicious trilogy of coconut panna cotta, strawberry compote and pistachio brittle.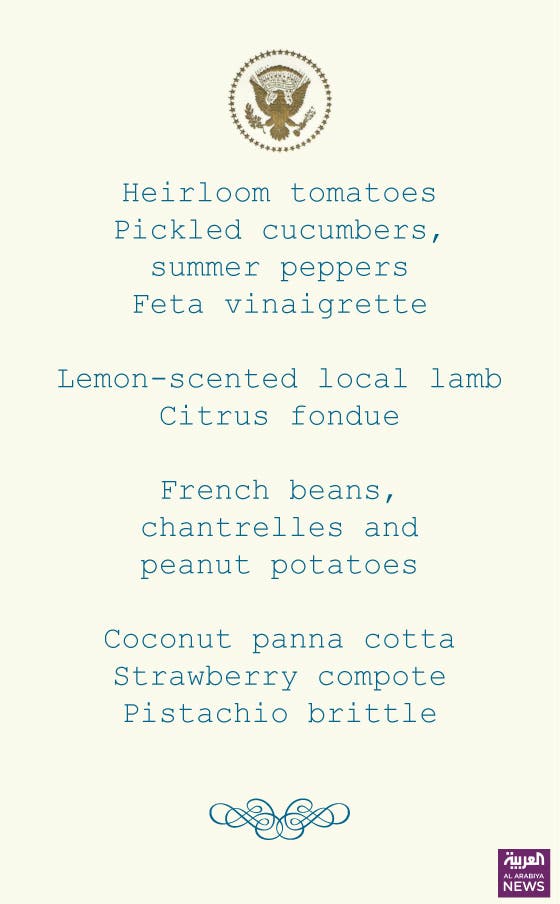 The talks have been organized for some time now after the Gulf states expressed concerns over the lack of dialogue over Iran nuclear talks that have been held between the U.S., the other p5+1 group of nations and Iran – but notably with an absence of the Gulf states.
The historic meeting has also provided Obama with a chance to express his unity to the Gulf region, stressing that he believes they are right to be deeply concerned about Iran's activities in the region, "especially its support for violent proxies inside the borders of other nations."
It remains to be seen whether the extravagant meal will build up an a joint US-GCC appetite to resolve all pending issues over the two-day Camp David summit.