Media falls for 'jeans cause earthquakes' Pakistan hoax story
The story had stated that Fazlur Rehman blamed what he called the immodesty of women for earthquakes
International media outlets, including the New York Times, have fallen for a hoax story which told how a top Pakistani cleric called upon the army to launch a military operation against women who wear jeans.
The story had stated that Fazlur Rehman blamed what he called the immodesty of women for earthquakes, inflation, lack of energy supply and the security situation in Pakistan.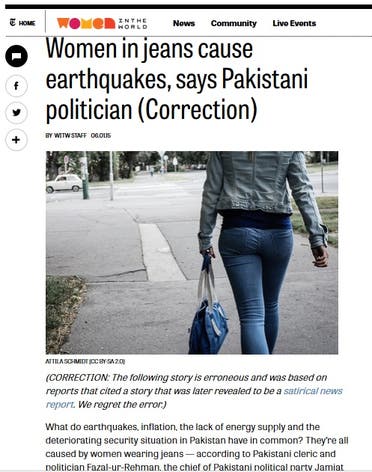 The hoax quotes also included that Rehman equated women sporting denim to a "mobile weapon of mass destruction" adding that if women are as covered as a "sack of flour" these disasters would be averted. The story is reportedly believed to have been posted as a satirical piece by Pakistani site The Khabaristan Times.
Correction: Al Arabiya English regrets that an earlier version of the article reported the story as fact and we thank the readers who brought this to our attention.