'Offensive' bird genitals? Prudish ISIS bans pigeon breeding
In the decree, which was written in Arabic, pigeon breeders were given one week to stop the practice or face public flogging
The Islamic State of Iraq and Syria (ISIS) has reportedly banned pigeon breeding in its self-proclaimed "caliphate" -- areas under its rule in Iraq and Syria.
According to the Daily Mail, a senior ISIS cleric, issued the decree after the group claimed the sight of the birds' genitals is offensive to Islam.
In the decree, which was written in Arabic, pigeon breeders were given one week to stop the practice or face public flogging.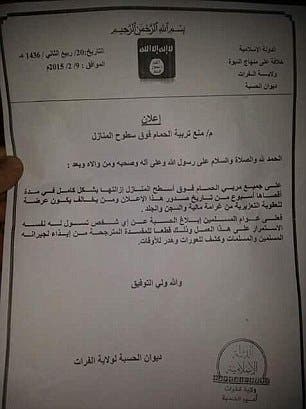 The short document, which was allegedly made public senior administrators, starts with a warning to locals who keep pigeons on the roof of their houses.
"All those who keep pigeons above the roofs of their houses must stop doing this entirely within a week of the date of the issuing of this statement,' the document read.
"Whosoever violates it will be subject to consequences of reprimand including a financial fine, imprisonment and flogging," it read.
In January, the group reportedly arrested15 boys who were rearing birds before executing three of them.
The families of the other boys were obliged to pay as much as $1800 each to secure the release of their children.