Saudi Hamza Hawsawi wins 'X Factor Arabia'
Hawsawi also won 100,000 Saudi riyals ($26,663.5) and a ticket to visit The X Factor founder Simon Cowell
Saudi Arabia's 24-year-old Hamza Hawsawi took home the winning title of the fourth season of The X Factor Middle East on Saturday night.
The young artist seemed surprised when the results were announced by his mentor and judge, Lebanese superstar Ragheb Alama.
The much talented Hawsawi who sang in English throughout the show surprised fans on the program's finale by singing a duet with Alama in Arabic.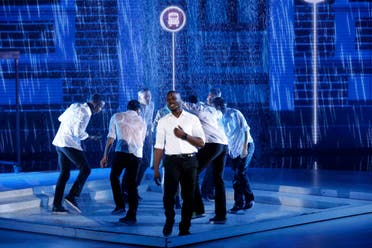 He wrapped up the night with his performance of John Legend's All of Me, leaving fans and judges alike in awe.

Hawsawi also won 100,000 Saudi riyals ($26,663.5) and a ticket to visit The X Factor founder Simon Cowell.
The Arabic-version X Factor was broadcast on pan-Arab TV channel MBC, the parent company of Al Arabiya News.