Lebanese fashion designer Elie Saab receives honorary doctorate
In 2013, AUL teamed up with Saab to become the first university in Lebanon to offer an English-language bachelor's degree in fashion design
Lebanese fashion designer Elie Saab was awarded an honorary doctorate for his achievements by the Lebanese American University (AUL), Lebanon's Daily Star newspaper reported Monday.
"When I started my career 33 years ago I had a burst of energy and determination to succeed," Saab said during the ceremony, according to Lebanese media.
"What I have achieved today is a result of work and effort," he said. "But times have changed," Saab told the university students.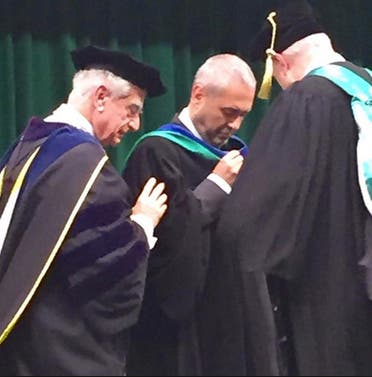 "Nowadays your future lies in education, which will help you fulfill your dreams. Your degree is your key to the real world."
In 2013, AUL teamed up with Saab to become the first university in Lebanon to offer an English-language bachelor's degree in fashion design.
"This honorary degree has increased my responsibility," Saab added, "I thank [LAU President Joseph] Jabra for the trust he put in me and I wish students all the luck and success."
During his address, Saab also spoke about the political situation in Lebanon.
The designer said that willpower and determination were needed to help one's nation.
Saab, who was born in Lebanon in 1964, is known for his red carpet creations.
Saab's gowns have been regulars on the red carpet since 2002, when the designer was thrust into the limelight after Halle Berry accepted an Oscar award wearing his burgundy gown with a full skirt and see-through top.
He has been showing couture collections in Paris for about a decade.